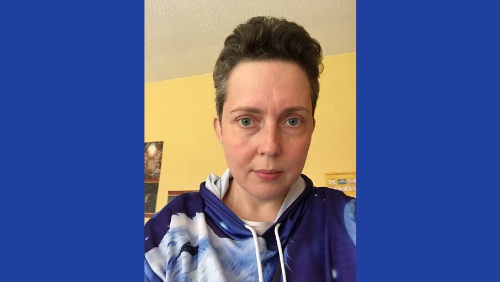 In this piece for National Epilepsy Week, Sarah Dromey looks back on her time at school with epilepsy and how simple words from her teacher helped her accept her condition….
I have had epilepsy for 40 years now and I have been on medication my whole life. When I think back to when I first started taking medication, I think about how much has changed since the 80s.
Beginning my journey with epilepsy as a child, I spent a large portion of my time with my head down. I wasn't mixing with friends; I was being bullied and I could see no future or happiness ahead of me. It was a difficult time.
As a teenager, one day after class, my teacher said these simple words to me - "Hold your head up Sarah".
Those words have always stuck with me. It's not always been easy, but ever since then, those words have always stuck with me. And I've always wanted to hold my head up no matter what. That simple, supportive comment really spurred me on – alongside support from family.
Despite the challenges that epilepsy brought throughout my teenage years – I will always remember how I was awarded student of the year during secondary school – despite missing so many days due to frequent seizures.
I believe I was awarded this as I was setting an example for other students – by facing my epilepsy with strength, persistence, dedication, and determination. All people with epilepsy have these qualities in abundance – due to the challenges the condition can bring and how our journeys can have many twists and turns.
I wanted to remind people with epilepsy of that this National Epilepsy Week and to show the public how a supportive and understanding comment for a person living with the condition can mean so much to a person with epilepsy on their journey with the condition.
Thank you, Sarah, for sharing and for highlighting how the wider community can make a lasting impact by simply being there and being supportive of a person on their journey with the condition. Epilepsy Ireland are not only there for people with epilepsy and their families, but for the wider community as well to increase awareness and understanding of epilepsy. Visit the 'Our Services' section of our website to see how we might be able to assist you.