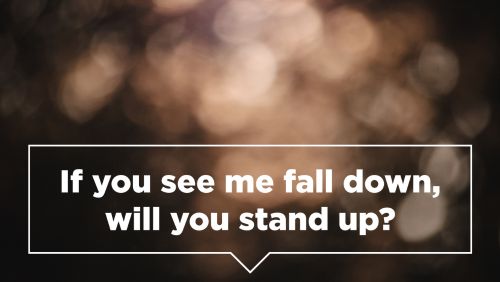 "If I fall down, will you stand up?"
This is a question that many people with epilepsy ask themselves every single day. Anxiety and worry about how the public respond to a seizure is a common concern brought up by our service users. Not only that, but there are still misconceptions out there amongst the public about how to respond to a seizure.
In September 2023, we had the opportunity to confront this with a simple new campaign which asked the public this very question. Another aspect of the campaign encourages the public to not let a person's epilepsy hold them back from responding. 
The eye-catching campaign features two Epilepsy Ireland volunteers and encourages everyone to visit our website to learn more about how to correctly respond to a seizure - and especially the key words of Time, Safe, Stay.
This initial poster aspect of the campaign was featured in locations across Dublin and kindly supported by all wings of the National Transport Authority of Ireland (NTA), helping us reach a large group of people with these important messages. Thank you to both the NTA and our incredible volunteers for being part of this campaign.
The posters and accompanying text can be seen below. 
Visit the 'Seizure First Aid' section of our website to learn more about Time, Safe, Stay so that you if you see a person having a seizure, you will stand up and not let it hold you back! ! You can also read more about Paul and Lucy– the people featured in this campaign - and their respective journeys with epilepsy within this section. They are also linked below:
Stay tuned for more on this campaign – this is just the initial phase and there's more to follow…. leading up to a very important day in February 2024, known as International Epilepsy Day!