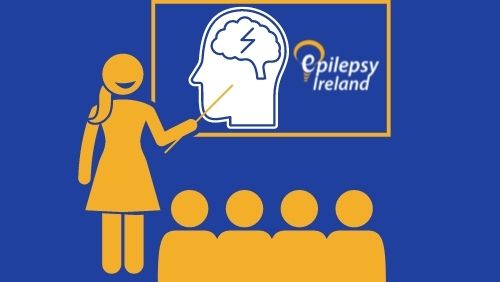 Epilepsy Ireland provides training in Epilepsy Awareness and the Administration of Buccal Midazolam to individuals who support people with epilepsy through their profession or in a community setting. Examples of people who attend this training are healthcare workers, education staff, bus escorts, employers/employees (working alongside a person with epilepsy), community workers in both private and voluntary sectors and facilitators of extra-curricular activities in the community. (If you have a query as to whether this training is suitable for you please email training@epilepsy.ie ) 
In these professions, it can be common to be caring for or supporting a person with epilepsy and the aim of this training is to ensure that the professionals in attendance develop a greater understanding of epilepsy and know how to correctly administer Buccal Midazolam. Buccal Midazolam is a rescue medication which has become more widespread in recent years and one which can be very important for people with epilepsy. It is administered during a seizure under medical advice and if given promptly, helps to reduce seizure duration. This relatively simple procedure can prevent major disruption to daily life resulting from hospital emergency treatment that can result from a prolonged seizure. Further information on the content of the course can be found on the 'Course Content' section. 
This training was first introduced as part of Epilepsy Ireland's service in 2009. In its inaugural year, over 200 professional were trained. This number has continued to increase over the subsequent years and in recent years, we have been training over 3,000 professional every year - showing the demand and quality of our training. 
The course was developed in conjunction with the Epilepsy Specialist Nurses Association (ESNA) 2019 guidelines and attendees will be observed and tested throughout the day. On successful completion of the training, attendees will be issued a certificate of completion which is valid for two years.
Epilepsy Ireland offer these training session both online and in-person. In house training for professional can also be arranged. In addition, we offer refresher training to professionals who have previously completed this course within the previous two years.
The Training is delivered and co-ordinated by our Training & Quality Manager, in conjunction with our local Community Resource Officer team. For further information on cost, how to book a session and details of upcoming training sessions, visit the 'Book Now' section. 
This was a wonderful course; it has reassured me and I am now looking forward to caring for these kids instead of being terrified.
Our trainer was easy to understand and down to earth. I feel confident I will be fully able to deal with any seizures in our learners going forward