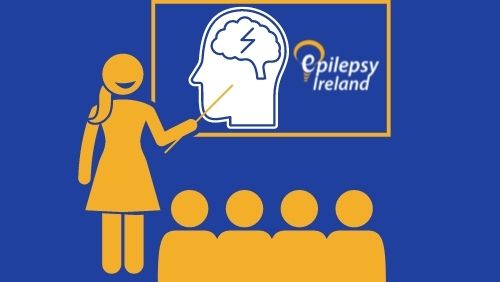 Since 2009, Epilepsy Ireland have provided training in Epilepsy Awareness and the Administration of Buccal Midazolam to individuals who support people with epilepsy through their profession or in a community setting. Every year, we train circa 3,000 professionals.
The course was developed in conjunction with the Epilepsy Specialist Nurses Association (ESNA) 2019 guidelines and attendees will be observed and tested on the information they have been provided with as part of our session. On successful completion of the training, attendees will be issued a certificate of completion which is valid for two years.
Examples of people who attend this training are healthcare workers, education staff, bus escorts, employers/employees (working alongside a person with epilepsy), community workers in both private and voluntary sectors and facilitators of extra-curricular activities in the community. 
In these professions, it can be common to be caring for or supporting a person with epilepsy and the aim of this training is to ensure that the professionals in attendance develop a greater understanding of epilepsy and know how to correctly administer Buccal Midazolam. Buccal Midazolam is a rescue medication which has become more widespread in recent years and one which can be very important for people with epilepsy. It is administered during a seizure under medical advice and if given promptly, helps to reduce seizure duration. This relatively simple procedure can prevent major disruption to daily life resulting from hospital emergency treatment that can result from a prolonged seizure. You can learn more about the content of our Training by downloading and reading the leaflet at the end of this page.
The Training is delivered and co-ordinated by our Training team, in conjunction with our local Community Resource Officer team.
Training Offerings
We are keen to make our course on Epilepsy Awareness and the Administration of Buccal Midazolam as accessible to professionals as possible and this is why the course is offered online, in-house in professional settings or in-person. In addition, we offer refresher training to professionals who have previously completed this course within the previous two years. We have outlined details of each of the various training options we offer below; their associated costs; and how to find details of the sessions/get in touch with our team to arrange a session.
Open Training (Online: €80 per person attending; In-Person: €100 per person attending)
These are training events that have been directly organised by Epilepsy Ireland.  The event listing will indicate whether the training is taking place online or in-person and you can secure your place directly by booking on our website via the event listing within the events section of our website. Click the button below to see details of upcoming events.UPCOMING ONLINE & IN-PERSON TRAINING EVENTS
In-House Training Events (€80 per person attending with a minimum of 10 attendees)
We can accommodate an in-house training session for your team, should you have 10 people within your organisation who need to be trained with this vital information. We would ask that you please be conscious of the demands on our training services and please give us as much notice as possible to arrange a dedicated session for your team. Please also provide information on:
The number of people who require training.
Whether you want the training in-person or online
The organisation you represent.
The background to your request (i.e, is a person with epilepsy joining your school or do you have a new resident with epilepsy etc)
Your contact details to discuss your request
Email the details above to our Training and Education Officer, Maire Tansey with the subject line "In-House BM Training Request" by pressing the button below.
EMAIL MAIRE WITH YOUR IN-HOUSE TRAINING REQUEST
Refresher Training
We know how knowledge can fade over time which is why we offer an amended refresher training course on Epilepsy Awareness and the Administration of Buccal Midazolam. This training is designed for professionals who may have a new student/patient with epilepsy within their two-year certification but wish to have their knowledge refreshed. This refresher training is only available online and is only for professionals who have previously attended our training courses within the previous two years. For details on upcoming refresher training sessions, please contact Barbara by pressing the button below and include the subject line "Refresher Training Request". Please provide details of when you were trained by Epilepsy Ireland, your contact details and the organisation you represent.
EMAIL BARBARA ABOUT REFRESHER TRAINING DATES.
Further Information
Should you have any further questions or queries regarding our Training, please contact our Training & Quality Manager Edel Curran by emailing training@epilepsy.ie and Edel will be in touch as soon as possible.   
PLEASE NOTE: If you are a parent/carer/family member of a person with epilepsy who has been prescribed Buccal Midazolam, demonstrations on proper administration of the medication can be arranged by contacting your local Community Resource Officer. This service is offered free of charge. Visit the 'Our Local Service' section of our website for details of your local Community Resource Officer.