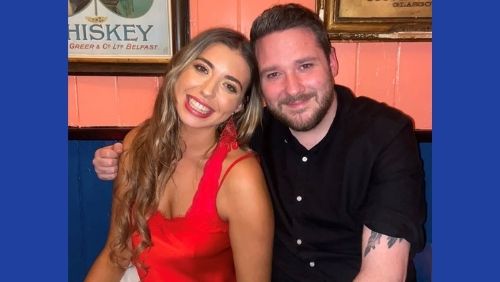 This piece was sent to us by Aaron Murphy, who writes about his friendship with Izzy Hodder and how they both lean on each other for support on their journey with epilepsy......
Myself and one of my best friends Izzy met volunteering for Niteline a student listening and support phone-line back in 2017. Izzy is now a final year mental health nursing student and I am team leader of addiction services at the Peter McVerry Trust. We became closer back at the start of COVID when we both worked in the COVID homeless isolation service for 8 months together. It was then that Izzy and I began to share our anxieties about having epilepsy and working long shifts.
Izzy was first diagnosed with epilepsy at 7 years old. She experienced a few seizures before being put on medication which really helped to stabilise the seizures well up into her teens. In her teen years this medication unfortunately stopped working as effectively which can be quite common, so her medication was changed to the one she is currently on now. Izzy experiences around 1-2 seizures a year now and fortunately has always been with supportive family and friends when they occur.
I was first diagnosed with epilepsy at 13. Throughout the years a number of medications and doses were changed in order to find one that managed my epilepsy effectively. At first it was a struggle for both my family and me. My mother sought out support from Epilepsy Ireland back then; who were extremely helpful with resources and putting her at ease. I found awareness around epilepsy to be the best help for me as a teenager, as having  classmates who understood really eased any anxiety that I had.
We both have recently experienced tonic-clonic seizures again which has been frightening but it helps when you have someone that knows what you're going through. We have similar fears and anxieties but have realised that we have both been extremely lucky and managed to live with our epilepsy (even through the times where it's briefly ruined trips or made us feel slightly embarrassed in public when there was nothing to feel embarrassed about).
Izzy and I have never really spoken openly about our epilepsy, only to close friends/family but we believe that our stories could help others out there. Our friendship isn't defined by our epilepsy, but it really helps to have a great friend that knows how it feels.
Thank you to Aaron & Izzy for sharing this story which highlights the importance of leaning on others for support. Epilepsy can be an isolating condition so it is important that people living with the condition speak to friends and family about their anxieties. Epilepsy Ireland are also there to support you on your journey with the condition and we do offer support groups where you can speak to others living with the condition. Visit the 'Our Services' section of our website to get in touch with your local Community Resource Officer for information, support or details of an upcoming support group meeting in your local area.