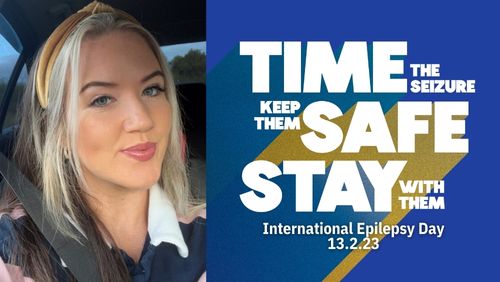 In a powerful personal experience about the lived experience of epilepsy as part of our series in the lead up to #EpilepsyDay, we were sent this piece by Ava Butler from Co. Limerick about her journey with the condition. Please take a few minutes to read and share to help increase understanding and awareness….
I was diagnosed with epilepsy when I was 8 – and I'm turning 21 this year – so epilepsy has been part of my life for quite some time! The type of epilepsy I have is called Temporal Lobe Epilepsy – meaning my seizures only happen in that part of my brain.
When the general public think about epilepsy, they think of the type of seizure where a person goes unconscious, falls to the ground and they have convulsions that may last for a couple of minutes. This is not the type of seizures I have – and one of the reasons I'm sharing my story is to raise awareness amongst the public that there is SO many different types of seizures.
The type of seizures I have last 5-10 seconds – but I could have multiple of them across 2-3 days straight. During my seizures, I am completely conscious and aware of what's going on around me. My head twitches during my seizures and I tend to let out screams which is just part of it unfortunately. I do get a warning before I have a seizure which in the epilepsy world is known as an "aura"! I think only people with epilepsy will understand this – it's so hard to describe but for me, it's a feeling in my stomach which I can only describe as the feeling of butterflies.
Epilepsy is certainly a journey and not without its challenges. I have been on so many medications in my 12 years of living with the condition; I have periods of seizure freedom, only for them to come back after a number of months; and it has affected my mental health. I've learned about my seizure triggers as I've grown older too.
I have to make sure I get a good amount of sleep because if I don't, it could trigger a seizure. In my case (and this is not the case for everyone with epilepsy), I've had to give up sports and going to the gym as for me, it just took too much out of me and ended up triggering seizures. My mood can sometimes change quite quickly due the side-effects of my current medications – and I have to try and avoid stress as much as possible, which is sometimes much easier said than done!!
In short, I have to be extremely mindful of my epilepsy when going about my daily life – and it can be a struggle! There are good days and bad days but as I have progressed on my own journey with epilepsy, I have learnt my triggers and how to avoid then – and how to not let epilepsy control me and the things I want to do!
As mentioned, one reason why I'm sharing my story is to make the public more aware of how there are different types of seizure and to also appeal to them to learn more about simple information such as seizure first aid (Time, Safe, Stay!) but I also wanted to share my story to help others living with epilepsy, particularly for those at the start of their journey. I just want you to know that things can get better – you will learn more as you go along your journey; you can get help from family, friends and Epilepsy Ireland. Use your voice and seek support off those closest to you and use the resources that are available; you are definitely not alone! There's lot of us out there!
Thank you, Ava, for sharing and being so open and honest about the true challenges of epilepsy and how important it is for the public to learn more. If you'd like to share your story, visit the 'International Epilepsy Day' section of our website to find out how to get in touch with our team- or visit the 'Seizure First Aid' section of our site to learn more about Time, Safe, Stay!