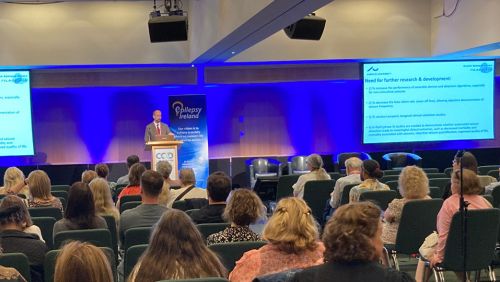 The International Epilepsy Congress took place at the Convention Centre Dublin from September 2nd – 6th. The Congress is the largest international scientific epilepsy meeting, and over 3,000 healthcare and scientific professionals from across the global epilepsy community were in attendance to share expertise and knowledge with their colleagues.
Epilepsy Ireland were delighted to play a leading role in the Congress, by working with our colleagues in the International Bureau for Epilepsy and the International League Against Epilepsy to organise the first-ever public facing events associated with this huge international event for the entire epilepsy community.
Historically, the Congress was for scientific and medical professionals exclusively, but our events brought the congress directly to people with epilepsy and their families. With close to 400 people attending across our two-night event, and approximately 300 tuning in online each night, it is fair to say that the event was welcomed by the entire epilepsy community, as the below feedback highlighted:
As a person living with epilepsy for the last 20 years, I learnt more in that conference in those two days than I've done in the last 20 years.  Can I just say that it wasn't just a brilliant idea, it was a magnificent one. The appetite for information was met by those who live with the condition. So heartiest congratulations for not only having the foresight to understand the need for information but to keep your promise and deliver.  I hope it's the start of something positive that started in Dublin and will ripple worldwide.
We are proud to have hosted these first-ever public events and are hopeful that they will become a fixture of the congress as they travel across the globe in the years ahead, with a legacy forever linked to Ireland.
If you were unable to attend in-person or online, you can watch back each presentation from the congress below.
We would like to thank all our speakers who took the time to take part in these events; all those who attended; and our colleagues in the IBE & ILAE for making these events possible. Together, we can achieve a society where no person's life is limited by epilepsy. 
---
Taoiseach's Address
At the opening ceremony of #IEC2023, An Taoiseach, Leo Varadkar TD delivered a welcome message to delegates which you can watch below. Visit the 'News' section of our website to read correspondence we sent to the Taoiseach following the congress. 
---
Climate Change & Epilepsy - with Prof Sanjay Sisodiya
Prof Sisodiya is a Professor of Neurology (Clinical & Experimental Epilepsy) at the UCL Queen Square Institute of Neurology, London. He is also an Honorary Consultant Neurologist at the National Hospital for Neurology and Neurosurgery. His main clinical and research interests are in drug-resistant epilepsy, genetic and genomic causes of epilepsy, treatment response genetics and translational neurology. He is the principal investigator of several international projects including the ENIGMA-Epilepsy Project and the EU-funded epilepsy pharmacogenomics project EpiPGX. He is a founding member of Epilepsy Climate Change (EPICC), an affiliation of professionals supporting research into climate change and epilepsy and is chair of the ILAE's Climate Change Commission.
---
Ketogenic diet and beyond: what is on the horizon? - with Prof Manisha Patel
Prof Patel is a Professor in the Department of Pharmaceutical Sciences at the University of Colorado. For over 20 years, her research laboratory has been working to understand the metabolic basis of epilepsy and develop metabolism-based therapies for the treatment of the condition. She has authored more than 100 scientific publications in journals such as Neuron and the Journal of Neuroscience. She was elected President of the American Epilepsy Society in 2022.
---
Managing the challenge of anxiety in epilepsy - with Dr Sophie Bennett & Dr Gaston Baslet
Dr Bennett is a Senior Clinical Psychology Lecturer at the KCL Institute of Psychiatry, Psychology & Neuroscience and Honorary Associate Professor at the UCL Great Ormond Street Institute of Child Health in London. She specialises in child and adolescent mental health, specifically focusing on the integration of physical and mental health care and in increasing access to psychological treatments through 'low intensity' interventions. She has a particular interest in addressing the mental health needs of children with epilepsy and has been research lead for the Mental Health Interventions in Children with Epilepsy (MICE) trial funded by the National Institute for Health and Research. Dr Baslet is an Associate Professor of Psychiatry at Harvard Medical School, and leads the division of neuropsychiatry as well as a clinical research program on functional neurological disorders at Brigham & Women's Hospital in Boston. His main clinical and research interests include functional seizures (also known as psychogenic non-epileptic seizures), and psychiatric comorbidities in epilepsy. He is also the director of medical student education at Brigham and Women's Hospital.
---
Precision therapies for epilepsy; what's available and how well do they work? - with Dr Floor Jansen
Dr Jansen is an Associate Professor in Pediatric Neurology at the University Medical Center, Utrecht, the Netherlands. She combines clinical care with teaching and a variety of research projects, focussed on rare and complex epilepsies including tuberous sclerosis (TSC), electrical status epilepticus in sleep (ESES of CSWS), genetic epilepsy and epilepsy surgery. She coordinates the TSC center of excellence for children and has been the principal investigator of a number of international clinical trials in rare epilepsies. She has authored/ co-authored over 140 papers in peer-reviewed scientific journals.
---
The genetics of epilepsy in 2023  - with Prof Sam Berkovic 
Professor Berkovic is an Australian neurologist and Laureate Professor in the Department of Medicine, University of Melbourne. He is also the Director of the Epilepsy Research Centre at Austin Health, where his research career has focused on the genetics of epilepsy. His research group discovered the first gene for epilepsy in 1995 and has been involved in many other key genetic discoveries since then which have revolutionized our understanding and approaches to the diagnosis and treatment of epilepsy. One of the world's most respected neurologists, Prof Berkovic was appointed as a Companion of the Order of Australia for his services to epilepsy research in 2014.
---
The relationship between sleep & epilepsy – with Dr Birgit Frauscher
Dr. Frauscher is Professor of Neurology and Director of the Comprehensive Epilepsy Center at Duke University, North Carolina. She has built an internationally recognized research program that seeks to better understand the important relationships between sleep and epilepsy. Her research has been awarded with national and international awards, among which are the Excellence in Research Award 2022 of the Canadian League against Epilepsy and the Michael Prize 2019 of the International League against Epilepsy. Dr. Frauscher has published over 160 peer-reviewed original articles.
---
 Seizure detection systems & devices – the current state of play - Prof Sándor Beniczky
Prof Beniczky is a neurologist, clinical neurophysiologist, and epileptologist. He is the Head of Clinical Neurophysiology at the Danish Epilepsy Centre & Aarhus University. His main research interest is EEG and epilepsy, focusing on electromagnetic source imaging, seizure detection, standardization, and quality assurance in clinical neurophysiology. He is the author of over 200 peer-reviewed papers and 22 book chapters and he is the editor-in-chief of Epileptic Disorders, the educational journal of the International League Against Epilepsy.
---
The cannabinoid story – what we have learned - with Prof Cecilie Johannessen Landmark and Prof Finbar O'Callaghan
Prof Johannessen Landmark is a Professor of Pharmacology and Head of the Pharmacology Team at the National Center for Epilepsy in Norway. She has been focusing on personalized medicine in patients with epilepsy for the last 20 years through teaching, research and clinical work at the Dept. of Pharmacy at OsloMet, the National Center for Epilepsy and the Laboratory for Clinical Pharmacology. She is involved in various national and international collaborations and has published a range of articles related to topics of clinical pharmacology, pharmacokinetics, therapeutic drug monitoring, and patient safety issues. Prof O'Callaghan is Professor of Paediatric Neuroscience at the UCL GOS Institute of Child Health, University College London and (Hon) Consultant Paediatric Neurologist at Great Ormond Street Hospital. He was President of the British Paediatric Neurology Association from 2017-2020. His research has been in the area of neuroepidemiology and clinical trials, specifically in infantile epilepsies, tuberous sclerosis complex and stroke.
---
Complex and Rare Epilepsies: The past, the present, and the Future - with Prof Kette Valente
Prof Valente is a Paediatric Epileptologist & Full Professor at the University of São Paulo (USP), Brazil. Since 2006, she has been the Technical and Scientific Director of the Neurophysiology Laboratory, Clinic Hospital, USP.  Her main research interests are in Epilepsy and Clinical Neurophysiology, and she has published over 200 scientific papers. She is the Past President of the Brazilian Chapter of the ILAE and the current Chair of the Pediatric Commission of the ILAE. 
Note: As Prof Valente's presentation on the night contained information which could not be recorded, we are unable to share the video from the night. However. Prof Valente has kindly agreed to re-record the presentation from the night, omitting the information which cannot be shared. When this video is available, it will be added here. 
---
Neuropsychological Interventions in newly diagnosed epilepsy - with Prof Gus Baker
Prof Baker is a Consultant Clinical Neuropsychologist who has worked at the Walton Centre, Liverpool and the University of Liverpool for 30 years, spending his time equally between clinical practice and research. He has published over 300 papers, chapters and books on neuropsychological subjects with a specific emphasis on the cognitive and psychosocial consequences of epilepsy. He currently serves as Secretary General of the International Bureau for Epilepsy, the elected Vice President of Epilepsy Action UK and Patron of the Brain Charity, Liverpool.
---
The role of exercise in managing epilepsy - with Dr Halley Alexander
Halley Alexander, MD is a neurologist at Wake Forest Baptist Health in Winston-Salem, North Carolina and Assistant Professor of Neurology at Wake Forest School of Medicine in Winston-Salem. Her clinical specialty is in epilepsy, and one of her main clinical and research interests is in improving quality of life in people with epilepsy through the development of new lifestyle interventions such as physical activity programs. She is currently researching the effects of physical activity in people with epilepsy on seizure control and epilepsy-associated comorbidities. 
---
When should surgery be considered? - with Prof Guy McKhann
Professor McKhann directs the Epilepsy Surgery program within the Department of Neurological Surgery at Columbia University Irving Medical Center/New York-Presbyterian Hospital. He has 25 years of experience working within multidisciplinary teams to maximize outcomes for patients with a variety of conditions including epilepsy and brain tumors. He has particular technical expertise in epilepsy surgery, intraoperative awake brain mapping, minimally invasive brain tumor surgery, and laser ablation. He also works as a translational neuroscientist, studying various aspects of brain function and epilepsy pathophysiology.
---
We would like to once again thank all our speakers who so willingly took part in the first-ever public events associated with the International Epilepsy Congress, and to our colleagues in the International League Against Epilepsy and the International Bureau for Epilepsy for making these events possible. 
If you need information or support on your journey with epilepsy, please do not hesitate to contact your local Community Resource Officer. You can find their details by visiting the 'Our Local Service' section of our website.  
If you would like to support our work towards a society where no person's life is limited by epilepsy, you can make a vital donation on the button below.