The Epilepsy Ireland National Conference returns after a year's absence, and for the first time ever, the event will be held virtually!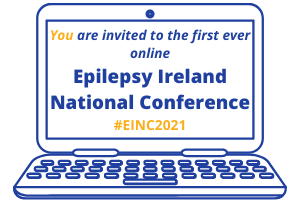 In another first, the conference will be held over three days and you won't even have to leave the comfort of your couch to join us and learn more about subjects such as medical cannabis & epilepsy; dogs predicting seizures and the use of seizure detection alarms - amongst so much more! And finally - the conference is totally free to attend; all you need to do is register. There is truly something for everyone at this year's online conference so please join us at the #EINC2021!
We have briefly outlined each event below and signposted to where you can find further information and register. You can also download a programme of events at the end of this page or by clicking HERE.
We look forward to welcoming to you to our National Conference!!
---
DAY 1 - September 30th
"Managing YOUR Epilepsy as a Teenager"
7pm - 9:30pm
With pediatric neurologist Dr. Liz O'Mahony; Dr. Muiríosa Connolly, Senior Clinical Psychologist; and Áine O'Dea, Independent Occupational Therapist.
---
DAY 2 - October 1st
"Seizure Detection Devices"
10am - 11:45am
With Epilepsy Ireland National Information Officer, Geraldine Dunne.
"Untrained Dogs and Seizure Detection"
12pm - 1:45pm
With Dr. Neil Powell of Queen's University Belfast
"My Life and Epilepsy"
2pm - 3pm
Epilepsy Ireland patron Rick O'Shea interviews Dr. Jim Morrow.
---
DAY 3 - October 2nd
"Roundtable Discussion on Medical Cannabis and Epilepsy"
10am - 12pm
Epilepsy Ireland patron Rick O'Shea hosts a roundtable discussion on this subject featuring leading neurologists Prof. Norman Delanty, Prof. Colin Doherty, Dr. Bláthnaid McCoy & Dr. Bryan Lynch.
"Epilepsy in English"
12.15pm - 2pm
With Dr. Matthew Campbell, Dr. Christina Ruedell Rescke, Professor David Henshall, Dr. Yvonne Langan & clinical researcher Jack Banks.
---
We can't wait to welcome you to our first ever online conference! If you have any queries about the conference or need assistance on the registration process, please contact 014557500 or email info@epilepsy.ie.
#EINC2021