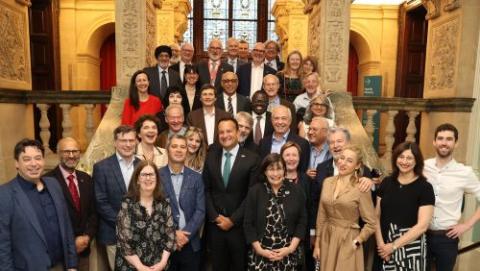 As many of our members, supporters and volunteers will be aware, the 35th International Epilepsy Congress recently took place in Dublin and saw the leading minds in the epilepsy community come to Ireland to share ideas, network and learn from each other in order to improve the lives of people with epilepsy across the globe.
Working with our colleagues in the International League Against Epilepsy (ILAE) and the International Bureau for Epilepsy (IBE), we were delighted to play a central role in the congress by organising the first-ever public events associated with what has been historically a conference aimed at medical/scientific professionals. We hope that these events will become part of the Congress as it moves on to its next international location.
As part of the Congress opening ceremony, An Taoiseach, Leo Varadkar, provided a video message welcoming over 3,000 delegates to Dublin – during which he highlighted the strong history and contributions of Epilepsy Ireland in working with Government and policy-makers in working to improve the lives of people with epilepsy in Ireland.
You can watch the Taoiseach's opening address in the video below:
The Taoiseach later invited representatives from the national and international epilepsy community to a State Reception. Epilepsy Ireland was represented at this meeting by our Chairperson Cathy Grieve, CEO Peter Murphy, and our Advocacy & Communications Manager, Paddy McGeoghegan. We had the opportunity to briefly discuss some key issues facing people with epilepsy and following our meeting, we have now written to the Taoiseach to expand on several areas we believe need to be progressed and addressed.
This correspondence is available to read or download at the end of this article.
We hope the Taoiseach's acknowledgement of the important work of Epilepsy Ireland, as well as the recognition of the challenges that can face people with epilepsy is a sign of renewed focus from Government to help address the many issues which can face the entire epilepsy community.
We will continue to do all we can to progress our key advocacy priorities, with the support of our members and volunteers as it is only together that we can achieve a society where no person's life is limited by epilepsy.
We would like to thank the Taoiseach for his support of the Congress and acknowledgement of the important role of Epilepsy Ireland. We would like to thank our colleagues in the ILAE and IBE for bringing the Congress to Dublin this year and for working with us to make the public events possible.