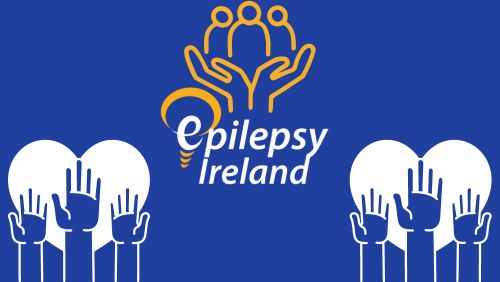 Throughout our history, we have been blessed to have the support of thousands of incredible volunteers who have shared our vision of a society where no person's life is limited by epilepsy.
To mark the 50th anniversary of Epilepsy Ireland in 2016, we introduced our Volunteers of the Year awards.
The award is a small token of appreciation of the outstanding efforts an individual or a group of individuals have undertaken in support of Epilepsy Ireland and highlights the importance of volunteering within our organisation.
On this page, we are delighted to profile previous recipients of this special award.
If you are inspired by any of our volunteers outlined below and want to help support our work, get in touch by dropping us an email at info@epilepsy.ie or by calling our team at 01 4557500.
We would like to thank everyone and anyone who has supported our work in any way over the years. Together, we can achieve a society where no person's life is limited by epilepsy.
---
2022 – Louise Young
In 2022, our volunteer of the year award was posthumously bestowed upon the late Louise Young – both in recognition of her own support of Epilepsy Ireland during her life; and in recognition of the continued efforts of her family, friends, and colleagues to continue her awareness & fundraising work in her name.
Louise was an active fundraising and media volunteer with Epilepsy Ireland – and was just getting started with this aspect of her life – when she tragically passed away due to SUDEP in January 2021. After her untimely, passing, Louise's friends, family & colleagues continued her awareness raising and fundraising work for Epilepsy Ireland in her name – with over €30k being raised in support of Epilepsy Ireland in the days following her untimely passing.
The combined efforts have led to the establishment of the Louise Young Research & Seizure Alarm Fund – which was launched at our National Conference in 2022.  The fund is initially aiming to research the true impact of seizure detection devices and in time to establish a new scheme to provide seizure detection devices to people with epilepsy either free or at a significantly reduced rate (this work is ongoing).
The award was presented to Louise's father Stewart; mother Tina; and sister Katie at our National Conference in 2022.
Louise Young - Ar dheis Dé go raibh a hanam.
To learn more about SUDEP, visit the 'SUDEP' section of our website.
---
2021/2020 – The MythBusters; Lorraine Lally, Gerard Kennedy, Oliver Kilmartin & Debbie Kobe
Due to COVID-19, the recipients of the award for 2020 were only announced in 2021 – meaning they have the unique position of holding the title of volunteer of the year for two years!
Lorraine, Gerard, Oliver & Debbie made a monumental contribution to busting common myths associated with epilepsy by fronting our innovative International Epilepsy Day 2020 campaign, one of our most successful ever public awareness campaigns.
The campaign had a huge impact, but it would not have been possible without the bravery of these four fantastic volunteers allowing their images to be used to spread very important messages.
The video below is a behind the scenes look at the campaign – which highlights the scenarios our volunteers put themselves in, all in the name of epilepsy awareness!!
You can see the campaign and associated images in full by visiting the 'International Epilepsy Day' section of our website.
---
2019 – The Tour De Gaggs Team; The Alan Gallagher Memorial Cycle
Beginning in 2009, the Tour De Gaggs is an annual cycle which was run by the friends and family of the late Alan Gallagher. The cycle begins in Cork and travels to Roscommon, going via Salthill in Galway in between!
There is plenty of kms involved and it is no easy feat, but through their years of completing the cycle, the friends and family of Alan have raised over €80k in support of the work of Epilepsy Ireland in Alan's name.
Their efforts are directly responsible for the establishment of the Epilepsy Deaths Register for Ireland. The Epilepsy Deaths Register for Ireland (EDRI) is a safe and secure platform for those bereaved by epilepsy and for professionals to provide information about the deaths of people with, or suspected to have had, epilepsy. The register is a collaboration between Epilepsy Ireland and our colleagues in SUDEP Action and the aim of the register is to:
Reduce epilepsy-related deaths
Improve epilepsy advice and treatment plans
Identify and prioritise new epilepsy research
Improve public awareness of epilepsy-related risk including SUDEP
Decide where best to put funding to improve services for people with epilepsy
Without the efforts of the Tour De Gaggs Team in Alan's memory, the EDRI would not have been possible.
Niall Harte & Eoghan O'Shea, representing the Tour De Gaggs Team, were presented with the volunteer of the year award at our 2019 National Conference.
Alan Gallagher - Ar dheis Dé go raibh a anam.
To learn more about the EDRI, visit the 'Epilepsy Deaths Register for Ireland' website.
---
2018 – Mark Earley
In April 2017, Mark Earley's life was turned upside down after a phone call to inform him that his wife Liane had passed away due to SUDEP. Mark and Liane had plans to build a family, travel the world, live in Galway and grow old together. In Mark's own words, he wanted to channel his grief into positive action:
"To channel my grief into positive action with the aim of honouring Liane and helping others was a goal from early on after Liane died."
Mark certainly honoured Liane. He wrote on several occasions, raising awareness of SUDEP – including pieces in the Irish Independent and discussions with Ryan Tubridy on RTÉ 1. Alongside this, he raised over €55k for Epilepsy Ireland in the immediate year after Liane's passing, through a number of events – including the Liane Deasy Memorial Swim.
Mark was presented with the volunteer of the year award in 2018, alongside Michael Earley, Finola Earley, Sarah Earley and Hector Lloyd.
Liane Deasy - Ar dheis Dé go raibh a hanam.
---
2018 – Cork Parents Support Group
On March 14th 2007, The Cork Parents Support Group came together for the first time. A group of mums and dads, they joined forces because their children had been diagnosed with epilepsy and they wanted to meet others in a similar situation. Many people have come and gone from the group over the years, often as their child's epilepsy improves but others have stayed involved, not just for the support they receive but so that they can help other parents who join the group and who are often starting out on their epilepsy journey. The group has contributed immensely to fundraising work over the years from coffee mornings, quizzes, raffles, launching a CD, cycles, cake sales, participating in the marathons and assisting with Flag Days and Rose Week. The parents have also brought in their extended families, friends, and work colleagues to raise funds to support Epilepsy Ireland services. However, this award was not just about fundraising, it's also for the time they have given up so generously to help organise events, to speak out about epilepsy at events and participating in media interviews. Above all, the award was given for supporting each other and sharing experiences. It is about being there for each other when there were tears and when there were moments of great joy like when children become seizure free or pass their exams. The Cork Support Group for parents still meets to this day and was the blueprint for similar support groups being established across the country.
The award was presented to Mags Cummins and Una Long, two of the original pioneers of the group, alongside their local Community Resource Officer Niamh Jones.
If you are interested in support groups for parents, get in touch with your local Community Resource Officer. You can find their details by visiting the 'Our Services' section of our website.
---
2017 – Brenda Quigg
One morning in late 2014, Mayo woman and person with epilepsy Brenda Quigg, woke up with an idea – to organise a cycle for epilepsy; and so the Saddle Up for Epilepsy was born! Within just a few months and after much hard work from Brenda, over 250 cyclists took to the start line in Castlebar on a cold February morning to mark International Epilepsy Day in 2015.
The event raised a fantastic €15,000 and there wasn't a person in Mayo who didn't know about it! In 2016, the event was back again with over 400 people taking part from all over the country and an incredible €35,000 was raised. In 2017, the event grew once again, with over 500 cyclists and more than €33,000 raised.
Given the magnitude of work involved in organising the cycle, 2017 would ultimately be the last year of the event to date – but the impact of the cycle will never be forgotten. The cycle allowed us to expand our services to people with epilepsy in the West of Ireland, something which remains to this day.
Brenda was presented with her award at our National Conference in 2017 and remains actively involved in fundraising and awareness activities of Epilepsy Ireland to this day.
If you would like to get involved in our fundraising activities, visit the 'Fundraising' section of our website to find out how!
2017 – Karen Keely
Karen Keely was diagnosed with epilepsy as a child and put on the drug sodium valproate (Epilim) to treat her seizures. Today we know that it should not be taken by women of childbearing age because of the risks to the foetus in the womb. This is now known as Foetal Valproate or Foetal Anti Convulsant Syndrome (FACS).
However, Karen was never fully advised of the risks and continued to be prescribed valproate throughout her three pregnancies and all three of her sons – Harry, Lee and Lorcan have been affected by FACS. The consequences of sodium valproate have dominated her life. Her sons have all had repeated medical, surgical, and clinical interventions and two require lifelong care.
Despite all the difficulties and challenges that this has brought, and the battles she's endured, Karen has for the past decade devoted herself to raising awareness among other Irish women with epilepsy of the risks of valproate. Additionally, she fights for recognition and justice for the families affected. She has set up the Irish branch of OACS, Organisation for Anti-Convulsant Syndrome.
She is a true epilepsy advocate who never gives up, not just for her own boys, but for all the mothers and children who are similarly affected or are at risk. Her passion and determination has brought this issue to an international focus.
Epilepsy Ireland's work alongside Karen & OACS Ireland on issues surrounding Sodium Valproate continues to this day and working together, we have made steps forward on several fronts.
Karen was presented with her award at our National conference in 2017.
To learn more about Epilepsy Ireland's and OACS Ireland's ongoing campaign surrounding Sodium Valproate, visit the 'Advocacy' section of our website.
---
2016 – Bernard Hughes
Bernard was the face of Epilepsy Ireland (then Brainwave) in Cork for over 30 years. For the people of Cork, before there were Community Resource Officers, there was Bernard.
As a person with epilepsy, Bernard volunteered his experience of living with the condition to support countless others. He never shied away from talking about his epilepsy and encouraging others to do likewise, at a time when many people preferred to keep their epilepsy hidden. He was also a tireless fundraiser, raising an estimated €1 million in support of our work over his long association with our charity. Until his retirement in 2016, Bernard had worked three days a week as a volunteer, a measure of the person he was and the passion he had for the cause of epilepsy.
Those of us at Epilepsy Ireland head office who worked alongside Bernard will fondly remember the warm welcome, the enthusiastic handshake and the copious amounts of tea & biscuits that would be offered on arrival at the old Washington St. office - followed by a meticulous discussion of recent fundraising or plans for the next quarter! His enthusiasm and personality were infectious and his passion for epilepsy never waned in retirement, remaining in contact with many of the Epilepsy Ireland team and always willing to lend an experienced ear.
When we introduced the volunteer of the year awards at our National Conference in 2016, it was only fitting that Bernard be one of the inaugural recipients.
Bernard passed away in 2021 as a true champion of our cause. He is sorely missed by all at Epilepsy Ireland who knew him, and the many of us that called him a friend.
Bernard Hughes - Ar dheis Dé go raibh a anam.
2016 - Theresa O'Brien
Theresa's involvement with Epilepsy Ireland goes back to the late 1980s. Her daughter Catriona was diagnosed with epilepsy and Theresa and her late husband Paddy were the catalyst for organising an information evening for other parents at the local school in Waterford. This developed into a regular support group meeting, and it soon expanded to outside the school walls. Today, the group is still going strong, with Theresa at the forefront. A long-term fundraiser as well, Theresa is a fantastic example of the voluntary spirit that has fuelled the increased awareness of epilepsy over the last 50 years. We were proud to acknowledge Theresa's efforts through the inaugural awards in 2016.
2016 - Ann Kinahan
Ann's involvement with Epilepsy Ireland is not just because of her own epilepsy, which she has had since a teenager but also because of her two sons who also have the condition. Her volunteering goes back three decades but the Offaly woman has always been someone to play down her immense importance. In fact, there are few people as dedicated and passionate about the cause of epilepsy as Ann, who has been involved in activities as diverse as skydive fundraisers, media interviews, helping to organise local information events and even taking part in epilepsy research. For Ann, no job has ever been too big or too small; which is why she was a fitting recipient of our inaugural volunteer of the year awards.