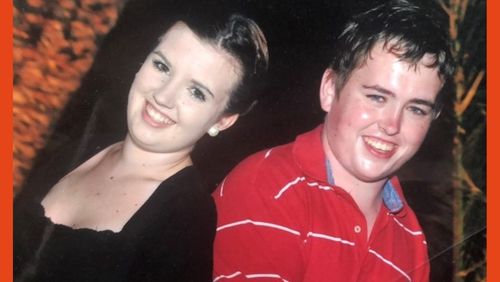 For SUDEP Action Day 2022, Megan Corrigan writes about the loss of her brother Shane due to SUDEP...
On the 7th of January 2018, I received a phone call from my Dad to tell me that Shane had died.
I remember feeling an overwhelming sense of confusion - I didn't understand how Shane could be dead when I had been on the phone to him the day before and everything way just normal. 
Shane was 23 years old and had his whole life ahead of him. He had just started working after finishing his masters and was really starting to set out his own path. Shane was a confident and easy-going character who just loved living, spending time with his friends and family and just loved finding the fun in everything.
After his initial diagnosis of epilepsy at 20 Shane lost a bit of his confidence, but over time with the support of his friends he returned back to himself, and his epilepsy became something that would be dealt with when it needed to be but in reality, nothing really changed - Shane carried on living his life as he had before being diagnosed. 
I didn't treat his epilepsy with the respect it deserved. I presumed as long as he took his medication and took care of himself, he would be fine.
I think this is why I struggled with Shane's death - I didn't realise that epilepsy could be life-threatening so to find out about SUDEP after he had died was really difficult.
Since Shane died myself and my parents have worked really hard to raise awareness of epilepsy and the risks of SUDEP so that people understand how serious it can be and treat it with the care it deserves. This summer I was part of the Cycle for Shane which travelled from London to Achill to raise funds for SUDEP Action and Epilepsy Ireland in Shane's name.
For me this had helped me massively with my grieving process as I have had the opportunity to learn more about the charities SUDEP Action and Epilepsy Ireland and have seen the positive impacts that they have for people living with epilepsy. With the funds raised from the Cycle, the plan is to launch a new Safety Checklist and phone app in Ireland to aid doctor-patient discussions on epilepsy risks and provide people with epilepsy with the tools to effectively manage their risk.
Because of SUDEP, the lives of our all our family and friends has been massively impacted as we are without the wonderful Shane but by sharing this piece, I hope that many people with epilepsy – and their family members – will be encouraged to take some time and learn more about SUDEP, in the hope that less people will be affected in the future.
We would like to say a huge thank you to Megan for sharing this piece. You can learn more about SUDEP by visiting the 'SUDEP' section of our website. You can also learn more about the Cycle Megan mentioned in her piece by visiting the 'Cycle for Shane' section of our website.