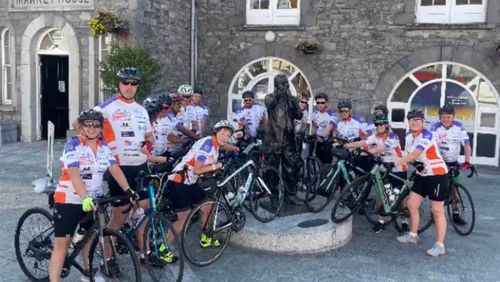 The Cycle for Shane was set up in memory of the late Shane Corrigan – who sadly passed away from Sudden Unexpected Death in Epilepsy (SUDEP) in January 2018.  You can learn more about Shane by visiting the 'About Shane' section.
To honour Shane's memory, Shane's family and friends came together to complete the Cycle for Shane – which saw them cycle all the way from London to Achill from August 20th - August 27th. 
Their extraordinary efforts aim to raise funds for both Epilepsy Ireland and our colleagues in SUDEP Action. Although the cycle is now completed and the cyclists are getting some much deserved rest, they are still targeting the massive sum of £150,000 to be raised in total.
From an Epilepsy Ireland perspective, using the funds raised, we hope to extend SUDEP Action's renowned SUDEP and Seizure Safety Checklist to Ireland. This resource has widely been integrated into the care of people with epilepsy in the UK to help clinicians discuss SUDEP risk and to make people with epilepsy and their families more aware about SUDEP.  
Should this resource be extended to Ireland, it will undoubtedly help prevent future SUDEP related deaths in Ireland and create a lasting legacy in Shane's memory.
You can donate to the Cycle for Shane by visiting their dedicated GoFundMe page. We loved meeting the Cyclists along their route while they made their way across Ireland - and they received a fantastic welcome wherever they went. You can look back on some pics and videos from the Cycle by visiting  their Instagram page!
Shane Corrigan - Ar dheis Dé go raibh a anam.