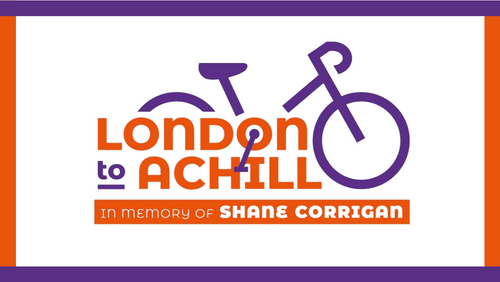 The Cycle for Shane is heading our way in August, and we cannot wait to welcome them to Irish soil as part of this epic fundraising campaign.
The Cycle for Shane has been set up in memory of the late Shane Corrigan – who sadly passed away from Sudden Unexpected Death in Epilepsy (SUDEP) in January 2018.  You can learn more about Shane by visiting the 'About Shane' section.
To honour Shane's memory, Shane's family and friends came together to organise the Cycle for Shane – a cycle which will see riders set off from just outside London and head all the way across England, across the Irish Sea and ride towards the finishing point in Achill Island in Co. Mayo.
Shane's family and friends are undertaking this monumental effort to raise funds for both Epilepsy Ireland and our colleagues in SUDEP Action.
They are targeting the massive sum of £150,000 to be raised in total.
From an Epilepsy Ireland perspective, using the potential funds raised, we hope to extend SUDEP Action's renowned SUDEP and Seizure Safety Checklist to Ireland. This resource has widely been integrated into the care of people with epilepsy in the UK to help clinicians discuss SUDEP risk and to make people with epilepsy and their families more aware about SUDEP.  
Should this resource be extended to Ireland, it will undoubtedly help prevent future SUDEP related deaths in Ireland and create a lasting legacy in Shane's memory.
We have outlined some key details about the Cycle below.
---
When does the Cycle take place?
The Cycle begins in London on August 20th and will reach Achill on August 27th.
What is the timeline for the Cycle in Ireland?
24th August: The Cycle for Shane team will arrive in Dublin on the morning of the 24th August and travel to Mullingar
25th August: The team will make their way to Roscommon
26th August: The team will make their way to Westport
27th August: The team will make their way towards their final destination of Achill Island!
How can I help?
There are several ways you can help:
By donating to the cyclist's efforts by visiting their dedicated GoFundMe page
By welcoming the cyclist along their route and volunteering to take part in collections along the way
By showing support for the cyclists and joining them for part of their route
By getting your local community or businesses involved in the cycle
If you can help with any of the above, please get in touch with our team by emailing fundraising@epilepsy.ie or by calling 014557500.
---
We are looking forward to welcoming the Cycle for Shane in August, but until then, you can keep up to date with the cycle by following their Instagram page!
Shane Corrigan - Ar dheis Dé go raibh a anam.