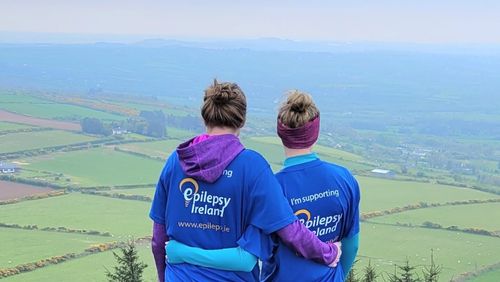 We rely on fundraising to continue our work towards a society where no person's life is limited by epilepsy. We work towards this vision in several ways which we have outlined below.
Providing Services and Supports for people with epilepsy and their families
The frontline of our service is our Community Resource Officers who work from our regional offices across Ireland. Our team of Community Resource Officers are there to help support, provide high quality information and advise a person with epilepsy and their family on their journey with epilepsy. Visit the 'Our Services' section of our website to learn more about the type of supports we offer.
Increasing Public Awareness and Understanding of Epilepsy
Epilepsy is one of the most common neurological conditions in Ireland – affecting over 45,000 people across the country. However, it can often be misunderstood by the wider public and misconceptions still exist around the condition today. Every day is an epilepsy awareness day for Epilepsy Ireland as we seek to educate the public about the condition. We also run several campaigns throughout the year aimed at increasing awareness of epilepsy – the flagship event being International Epilepsy Day in February every year. Visit the 'Awareness & Campaigns' section of our website to see upcoming campaigns and look back on previous ones!
Investing in Irish Epilepsy Research
We are proud to have invested over €1 million in Irish epilepsy research since 2009. This has involved investment in wide ranging projects all with the common aim of understanding more about epilepsy. We also work with leading research institutions to support their ongoing research projects and to engage people with epilepsy in the research process. To learn more about our investment and support for epilepsy research, visit the 'Research' section of our website.
Advocating for people with epilepsy and their families
We work to achieve positive change in the lives of people with epilepsy by advocating to the highest level of Government and policy makers to have issues that they may be facing resolved. We have several high-level campaigns ongoing and further information and the latest updates on these can be found in the 'Advocacy' section of our website.
Training & Education for people with epilepsy and professionals
Epilepsy Ireland offers a one-day training programme for professionals who may be caring for someone with epilepsy on Epilepsy Awareness and the administration of Buccal Midazolam. We have trained thousands of teachers, SNAs and healthcare professionals over the years. Visit the 'Training' section of our website to learn more about this vital aspect of our service.
Without the efforts of our dedicated fundraising volunteers and without the support of the public with their generous donations, this work would not be possible. If you would like to make a vital donation to our work, visit the 'Donate' section of our website.
To learn how Epilepsy Ireland raises and spends our income, visit the 'Use of funds' section of our website.