We are a proud member of MyLegacy, a group of Irish Charities which have come together to highlight the importance of legacy donations.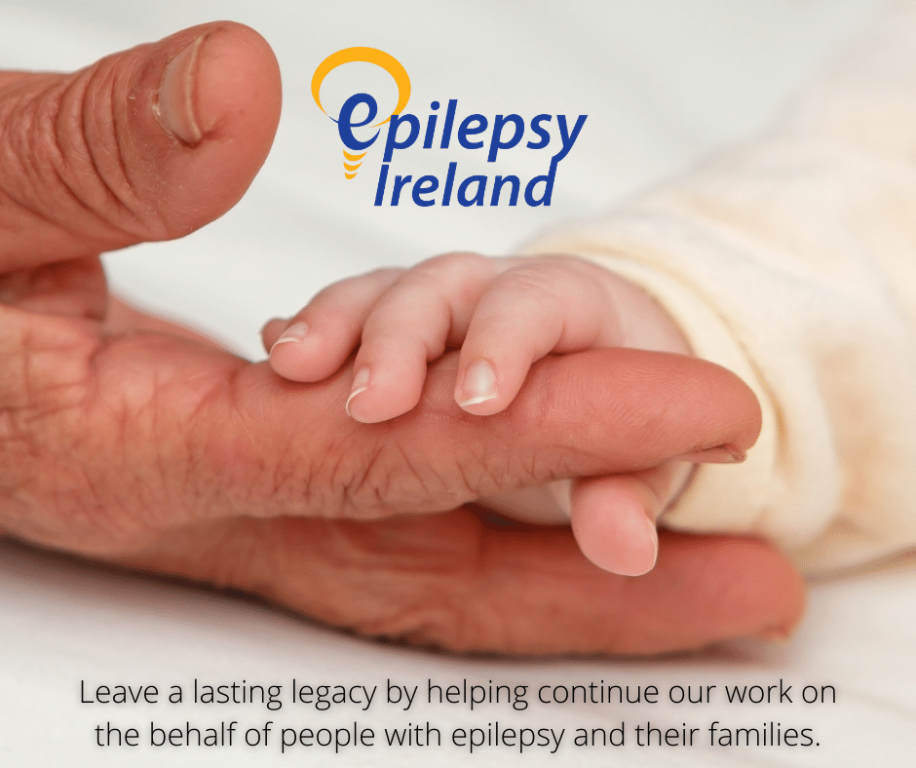 As part of our membership of MyLegacy, what we ask people to do is consider leaving a gift in your will to your chosen charity - after ensuring that your loved ones are looked after and all other affairs are in order.
Leaving a gift in your will means that you can make a substantial contribution to the work of Epilepsy Ireland that costs nothing in your lifetime but will mean everything to someone else someday. You will have the benefit of knowing that you'll be changing many people's lives and assisting us with our work towards a society where no person's life is limited by epilepsy. 
A gift, no matter how small, will make a big difference. We have listed some examples of our work below which links to further reading on each:
Investing in Irish Epilepsy Research: The more we know, the better we understand, The better we understand, the more we can help people. That is the importance of research in a nutshell and we are immensely proud to have invested over €1m in Irish Epilepsy Research over the past decade. You can read more about the projects we have funded HERE.
Education and awareness on Epilepsy: We have a number of campaigns year round which focus on raising awareness of this condition which affects 40,000 people in Ireland today. These include Purple Day, Brain Awareness Week, World Brain Day, National Epilepsy Week and International Epilepsy Day to name but a few. Our International Epilepsy Day campaign focussed on a number of myths around epilepsy. Sort the myths from the facts HERE.
Working in communities across Ireland: The core of what we do is through our team of Community Resource Officers across Ireland. They are there for people with epilepsy and their families to help advise them on living with the condition; how best to manage it; and are there for them when the condition can be at its most challenging. In 2019, 21,821 people made contact with our service. To read more about what we do, see our annual report for 2019 HERE.
Working with professionals in communities across Ireland: Our team also work with workplaces, schools and healthcare settings to educate them on epilepsy awareness. One aspect of this is our course on the administration of Buccal Midazolam. This is a rescue medication which can help bring a person out of a prolonged, potentially life-threathening seizure and helps avoid hospital visits or care. Our team train professionals such as teachers or SNA's so they can adminster to a child with epilepsy who may be having a seizure in the classroom. The following is a quote from a recent participants at such a course: "This was a wonderful course; it has really reassured me and I am now looking forward to caring for these kids instead of being terrified."
Working with young people with epilepsy to help them pursue their goals: Due to the nature of epilepsy, it can be something that impacts on a person's educational or social development. This is why we established Training For Success - a dedicated course for young people with epilepsy in IT Sligo aimed at helping them get into the workforce or onto further education. Over 80% of our graduates have done just that and you can read more about Training For Success HERE.
Advocating for people with epilepsy and their families: Whenever and wherever possible, we will put forward the perspectives of people with epilepsy and their families to Government, members of the Oireachtas, policy-makes and Department officials in order to enact positive changes in the lives of people with epilepsy. We identified a number of issues important to people with epilepsy and their families as part of the 2020 General Election. We also work with the wider disability sector such as the Disability Federation of Ireland and Neurological Alliance of Ireland to seek progress on the issues facing the wider disability & health sector. Recently, we made a submission to the Department of Health seeking they approve a new drug for reimbursement for two rare types of epilepsy. You can read more about this HERE.
For further information or to speak in total confidence, without obligation, about the possibility of leaving a legacy to Epilepsy Ireland, please do not hesitate to get in touch on 01 4557500 and ask to speak to a member of our fundraising team.
MyLegacy is a fantastic resource and has a wealth of information for you on the process of making a will. Below are some of the common questions around the making of a Will, which we hope will also be of assistance.
Why should I make a will?
Making a will is the best way to make sure that your wishes will be followed when you are gone. Your loved ones will thank you too, as having your affairs in order will reduce risk of complications and added expense.
Where do I start?
Making a Will can seem like an overwhelming task at first but it need not be so. It is very easy to make a will, and it can be done at any time but there are some legal formalities that must be complied with. We recommend that you always make a Will through a solicitor who can offer invaluable guidance while also ensuring that your Will is legally binding.
If you do not currently have a solicitor, you can find a list of solicitors in your area from the Law Society's website
Before going to your solicitor, it is a good idea to prepare by doing the following:
Make a detailed list of your assets and liabilities.
Make a list of what you want to leave to whom.
Decide on who will be executors (people who will administer your estate and carry out your instructions). These can be members of your family, a business associate or a solicitor. It should be someone with some knowledge of your affairs and someone you can trust. Ensure that the person(s) you select would be willing to act in that role.
Make a note of any other questions which you would like to ask your solicitor
How do I leave a gift?
There are three different types of gifts that are most commonly given to charities through wills. We recommend you discuss each with your solicitor to find out which suits you best.
1) Pecuniary Legacy 
You may decide to leave a specific sum of money to a charity, the sum of which is determined when you make your will. An example of wording used when leaving a pecuniary gift is:
"I give, devise and bequeath to Brainwave The Irish Epilepsy Association trading as Epilepsy Ireland (CHY Number: 6170) of 249 Crumlin Road, Dublin 12 the sum of € ________ to be applied by it for any of its charitable objects as it at its absolute discretion may decide."
2) Residuary Legacy
If you would like to leave a gift from the remains of your estate after you have taken care of your family, friends and loved ones, you can bequeath the residue or part of the residue of your estate. An example of wording used when leaving a residual gift is:
"I give, devise and bequeath all [or a fraction] the rest, residue and remainder of my property of every kind and description to Brainwave The Irish Epilepsy Association trading as Epilepsy Ireland (CHY Number: 6170) of 249 Crumlin Road, Dublin 12 to be applied by it for any of its charitable objects as it at its absolute discretion may decide."
3) Specific Legacy
You can also bequeath a particular item of value, for example jewellery, shares or property. An example of wording used in this case is:
"I give, devise and bequeath to Brainwave The Irish Epilepsy Association trading as Epilepsy Ireland (CHY Number: 6170) of 249 Crumlin Road, Dublin 12 (the item specified) to be applied by it for any of its charitable objects as it at its absolute discretion may decide."
The type and amount of your bequest to Epilepsy Ireland is entirely up to you. Legacy gifts of all sizes are greatly appreciated, and will have a lasting impact on our mission to improve the quality of lfe for people with epilepsy and their families in Ireland.
Can I change my will?
If your circumstances or wishes change, it is vital to review your Will to ensure that it is still current and in accordance with your wishes. It is also a good idea to review your Will every few years as the value of your assets may change over time. If you wish to alter your existing Will you will need to contact your solicitor. If your changes are relatively simple, such as the addition of a charitable gift, you need to add a codicil, which is a legally binding document that details the amendments to your Will. You should consult a solicitor if you wish to add a codicil to your Will. A codicil needs to be witnessed and signed in the same way as the original will, and should be kept in the same place as the original will.  
Will my legacy to Epilepsy Ireland be taxed?
Legacies left to charities are completely tax-free meaning that 100% of any gift you might leave to Epilepsy Ireland in your Will, would go directly to our work. It is advised that you seek the advice of a professional regarding taxation and your Will.
Should I contact Epilepsy Ireland if I decide to leave a legacy?
We fully appreciate that a Will is a private matter and it is not strictly necessary that you contact us to let us know you have thought of us when making your will. However, knowing that a legacy has been left to us enables us to plan for the future and most importantly allows us to show our gratitude to donors in their lifetime.
By letting us know your current intentions, you are under no obligation to make a legacy gift. We will of course respect your privacy at all times, and hold any discussions in the strictest confidence.
Thank you for giving consideration to leaving a legacy to Epilepsy Ireland.