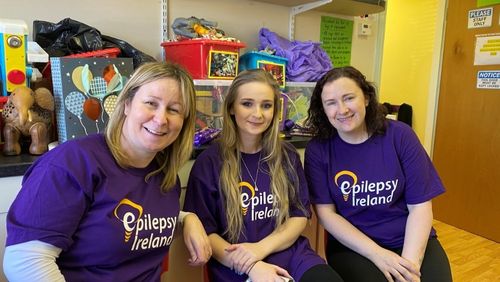 Purple Day® 2023 is just around the corner and is one of Epilepsy Ireland's most exciting fundraising days of the year.
The day takes place on the 26th March annually – and is a global epilepsy fundraising and awareness event.
With the day taking place on a Sunday this year, we know that it might make it a bit more difficult for people to host events on the day itself – so we are appealing to the public, our members, supporters, and volunteers to host purple themed events across the week of Purple Day® to raise vital funds for Epilepsy Ireland.
Every donation made and event held in support of our activities for Purple Day ® is vital in helping us continue our work towards a society where no person's life is limited by epilepsy.
How to get involved in 2023!
Buy your Purple Wristbands
Help us raise awareness and funds by purchasing our festival style purple wristbands! Get yours today in advance of the big day – and be sure to tell your family and friends to likewise! Remember, sharing is caring so when you get your wristband, take a pic and share it on social media and tag us in!
Sell Purple Wristbands in your community
Another important aspect to raise funds for Purple Day® is selling our wristbands directly to the public. If you have a link to a certain location and are willing to volunteer a few hours to sell our wristbands, please get in touch with our team by emailing fundraising@epilepsy.ie.
Host a purple themed event at school, work or at home!
As a community-based organisation, we love seeing communities getting together in support of Epilepsy Ireland. With Purple Day® fast approaching, we're appealing for our supporters to hold events wherever possible – this could be a purple non-uniform day at school; a purple themed day at work; or a purple themed bake sale/coffee morning at home. Whatever your event, we're here to help you make the best one possible – just get in touch with us on fundraising@epilepsy.ie and we'll assist as much as possible.
Be a Planker for Purple Day®
We have launched a new fundraising challenge for Purple Day® - that you can get involved in from the comfort of your own home, that you can either do individually or with a team. Will you be a Planker for Purple Day®? Learn more by visiting the dedicated page for the challenge on our website. 
We want to hear from YOU!
If you have been supported by Epilepsy Ireland in any way throughout your journey with epilepsy or throughout a loved one's journey with epilepsy, we need you to share your experience with us! These real experiences help the wider public better understand why our service needs support through vital donations and the impact it can have in the lives of so many people with epilepsy. If you'd like to share your experience, please do let us know by emailing fundraising@epilepsy.ie.
Light up Purple!
We are making a gentle appeal for well-known buildings to light up Purple for Purple Day® this year. With the energy crisis and increased consciousness of environmental impact, fewer locations will be able to take part this year which we totally understand. However, if a premises has to remain lit for any particular reason either on Sunday 26th or in the lead-up, we'd love to hear from you. Get in touch with our team on fundraising@epilepsy.ie if you have links to any well-known building or premises that would consider going purple.
As someone new to epilepsy, the support, understanding and education provided is absolutely invaluable. The initial diagnosis and anxiety that can come with it, can turn the world into a frightening place. I certainly found it limiting and unsettling. With the help of my medical team and the incredible support of my Community Resource Officer, I've been able to broaden my horizons once again, and recognise epilepsy for what it is: a new chapter of my story, which I need to learn to manage and understand, rather than something that has to be a defining feature. The more I can appreciate this, the easier it will be to take it into work and new social situations.
Help us continue our vital work this Purple Day® by donating today.  Thank you in advance for all your donation and for all your efforts in support of Epilepsy Ireland.

---
About Purple Day®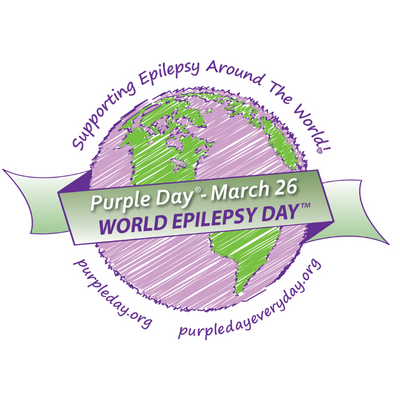 Purple Day® is an international grassroots campaign founded by Canadian woman, Cassidy Megan. The day sees people across the world encouraged to wear purple in the name of epilepsy awareness and well-known buildings across the globe also light up purple in recognition of the estimated 50 million people living with epilepsy across the globe. Purple Day® is a Registered Trademark of The Anita Kaufmann Foundation.
For more on Purple Day®, visit Purpledayeveryday.org.
---