Over the years, Epilepsy Ireland have been grateful to gain the support of some fantastic companies the length and breadth of the country by becoming their charity partner.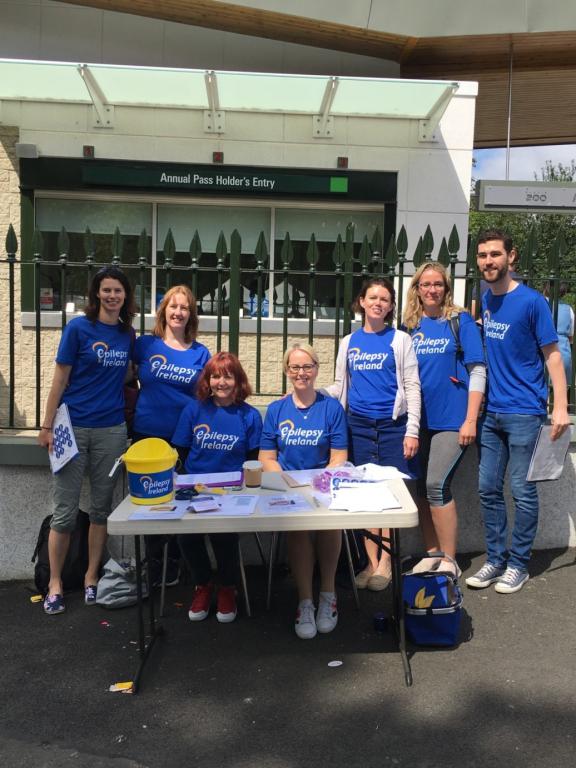 Becoming a charity partner is a vital source of fundraising for us as we work towards a society where no person's life is limited by epilepsy. With approximately nearly 40,000 people living with epilepsy across the country, it is likely that there is someone within your workplace or company that either have the condition or know someone who has been affected by it.
Corporate Social Responsibility (CSR) policies are now commonplace in businesses across the country and actively seek charity partners – we'd love to team up with you and become your charity partner! If you're a staff member, please inquire about your employer's CSR policy and propose Epilepsy Ireland as a charity partner.
We've asked (and answered!) some questions that you might have about before becoming a corporate partner below...
Why does my business need a charity partner or CSR policy?
We're not business people here at Epilepsy Ireland, but we don't need to have business degrees to tell you that partnering with us will be fantastic PR for your company. Reputation is the be all and end all in business and by partnering with Epilepsy Ireland – the only charity in Ireland helping those with the common neurological condition – you will be partnering with a well-known charity which helps people from Malin Head to Mizen Head and everywhere in between.
Why should we make Epilepsy Ireland our Charity Partner?
As noted, we're the only organisation in the entire country offering support to person's with epilepsy and their families. Our service doesn't stop there either. Our dedicated Community Resource Officers offer talks to schools and businesses on epilepsy first aid and awareness around the condition. We also provide funding for research on the condition which seeks further information on causes, treatments and possible cures. We are all across the country as well with our regional offices co-ordinating a nationwide service. So if your company or employer is in Donegal, Cork, Dublin or Mayo, it doesn't matter to us – we're rooted in the community across Ireland so we'd love to have you on board!
Does the state not support your service?
We do get state funding but unfortunately, what's allocated is often well below our actual running costs. We have an expansive service in that we're not only just providing education and awareness on the condition but we're also actively providing funding to find cures and treatments. We depend on fundraising to protect our current service and to give us the scope to look to any potential expansion of service. Having corporate partners is essential to our fundraising efforts. You can see more about our annual accounts, reports etc. here.
Isn't epilepsy somewhat niche?
Quite the contrary. There's approximately 40,000 people living and working with the condition in Ireland today. It is fair to say that there is someone within your company who may actually have the condition or who has been closely affected by it. Epilepsy is incredibly common in Ireland but unfortunately, it remains one of the most misunderstood and stigmatised conditions in the Country be it in the playground or in the workplace. Did you know, for example, that there are actually at least 50 different types of seizures that a person with epilepsy can have? Did you know that a person with epilepsy can actually be conscious and responsive during a seizure? Our job is to raise awareness of this and if you become our charity partner, you will be helping us do this.
I'm interested in becoming a charity partner but concerned about cash flow; is it just financial donations that Epilepsy Ireland needs?
While donations are graciously accepted and appreciated, this is not the only way that your company can help us. A lot of our work focusses on awareness of the condition so you can be more than a helping hand in this by selecting us as your charity of the year; by engaging your staff to volunteer for Epilepsy Ireland events such as Rose Week, International Epilepsy Day or by promoting our work or ways to get involved through your own channels.
These are just but a few examples of how a corporate partner can assist us aside from financial donations.
What can Epilepsy Ireland do for us if we become your corporate partner?
Returning to our previous point – PR. We proudly acknowledge and publicise our charity partners and will do the same with your company if you are willing to partner up!  We're also happy to assist you in every step of the way in developing your CSR policy if you don't have one or to work within the remits of your existing CSR policy. We can also offer your staff epilepsy training which will be of benefit to their personal and working life. Furthermore, by taking part in events organised by Epilepsy Ireland, your staff will have the opportunity to meet person's with epilepsy within your businesses community thus increasing awareness of your brand while also building team morale for your staff.
We want Epilepsy Ireland as our charity partner. Who do we contact?
Please get in touch with our Head Office on 014557500 or email info@epilepsy.ie and one of our team will be in touch!
Our Current Partners....
We are delighted to currently have the support of Expert Electrical as our charity partner. See more on Expert on the dedicated section of our website
here.

We are also proud to have the support of Procurement Leaders. See more on Procurement Leaders on the dedicated section of our website
here.