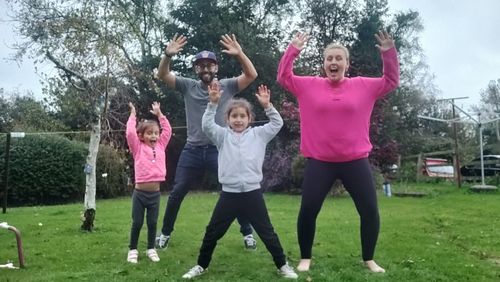 **This piece was first published in 2021, for our National Fundraising Week.**
In this piece, Lorraine Lozano writes about why she is supporting the work of Epilepsy Ireland through a unique fundraising campaign....
"We didn't know a lot about epilepsy until it came to our home earlier this year.
Our littlest had her first seizure on July 7th - prolonged, nocturnal and terrifying!!! I wouldn't wish it on anyone to see one of their babies having a seizure. Initially, you have no idea what's going on and it feels like it's taking the ambulance hours to arrive from the hospital which is literally 7 minutes away.
On August 9th, Reagan had her second nocturnal seizure. She was due in Crumlin the following day for an EEG which went ahead and confirmed focal, tonic clonic seizures and epilepsy.
I was alone with Reagan hearing her diagnosis from the neurologist. The word just rang in my head as my tears kept falling.
Reagan meanwhile kept boobing away in true Reagan style.
Hearing that our baby had Epilepsy was probably one of the scariest things I have ever heard. However, Reagan is just amazing!! She is still her crazy little self and her diagnosis does not define her. It's just something we have to live with and get used to. She calls it her "wiggles" which is probably the cutest, most innocent description ever.
She has epilepsy. Something I found very hard to say out loud for the first while. I was angry, sad and confused. It was really hard to accept. But epilepsy doesn't define this little monkey. She is Reagan. Our wild, funny, mischievous little girl and she hasn't changed in the slightest. Her epilepsy is something in the background. Something we are adjusting to and learning about every day.
She is on long term medication now which (touching all the wood) continues to work really well for her, albeit with some intense mood changes while she was adjusting to it. That we can handle if our baby is doing okay - which she definitely is.
It was only when epilepsy came to our family that we got to learn about the amazing resource that Epilepsy Ireland is. We were in touch with our local Community Resource Officer, Miriam Gray, who was such a support to a mother who still had the word epilepsy ringing in her head. We are much more confident now with Reagan's epilepsy – and we know that we have the support of our local Community Resource Officer should we need her.
So for #RoseWeek this week – our family are doing a challenge in support of Epilepsy Ireland to raise vital funds for their work. We're doing 50 star jumps to show that there are over 50 types of seizures – something that we've only learned ourselves over the past few months (its not all flashing lights and falling to the ground you know!) I'm sure I wasn't alone in thinking this but I now know first-hand about the amazing work Epilepsy Ireland does to educate the public about the condition."
Thank you to the Lozano family for their supporting our work and sharing their experience.  And yes - 'wiggles' is one of the cutest descriptions we've ever heard for epilepsy!