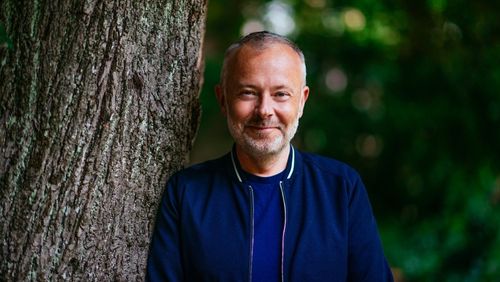 **This article was written in 2020, as part of our National Fundraising week, Rose Week.**
We are extremely proud to have been able to call Rick O'Shea our patron since 2006. In that time, he has continually worked to help raise awareness of epilepsy by sharing his own experience of the condition and by being on hand continually to us to promote our work. In his written testimony below, Rick talks about our work and why it needs to be protected and supported.
Read Rick's testimony below.....
"When I was asked to write a piece about why people should support Epilepsy Ireland's work this Rose Week, I wanted to think of a new way that I could appeal to people to support their work without telling my own story with epilepsy which I've done so many times in the past.
So this time I'd like to tell you about an alternate universe; one where where Epilepsy Ireland doesn't exist. Stick with me for a minute...
Across the country, children are receiving diagnoses of epilepsy. Parents don't know what this means for their child or them. They have no-one to turn to.
Adults are also being diagnosed. They're told to take a medication to try and stop their seizures for the rest of their lives. They have no-one to talk to about this or have no pathway to talk to others about what they're experiencing.
A person has a seizure in a shopping centre, and the call goes out across the tannoy wondering if anyone has a spoon to hand. Onlookers frantically seek to hold the person down as they await the spoon.
Employers are firm in their belief that a person with epilepsy should not be employed due to the risks associated. A person with epilepsy is left isolated and left believing that they will not be able to work.
It's not a nice universe is it?
Let me give you some reality then instead.
We are living in an Ireland where Epilepsy Ireland does exist.
An Epilepsy Ireland that despite everything we've all been through in 2020 has remained there to support & offer advice for people with epilepsy, their families, workplaces & communities. An Epilepsy Ireland whose sole purpose is to achieve a society where no person's life is limited by epilepsy by raising awareness and educating the public on a condition that affects 40,000 people in Ireland today.  An Epilepsy Ireland that trains people in seizure first aid and works to bust the long held myths about the condition.
This is the reality we live in – Epilepsy Ireland are there for people with epilepsy and their families and indeed, the wider public in raising awareness of the condition, but only with the help of people like you.
We know that people are unfortunately still experiencing stigma and misunderstanding around epilepsy in our reality – but I'm glad to be living in a reality where Epilepsy Ireland exists and where I know they are working on the issues experienced by so many.
We need to protect their services this Rose Week. I know things are incredibly difficult for everyone at the moment, but please consider donating to their work. We need to make sure that we have someone in our corner, fighting for the issues that are important to us and that those who are in different stages of their journey with this condition can rest easy knowing that this wonderful organisation is there to support them.
When I'm reading I love a good alternate universe, just not this one! Thanks for your help."
You can donate to our work by visiting the 'Donate' section of our website.