Why do we need Research Volunteers?
Researchers who are investigating epilepsy rely on people with epilepsy to volunteer their time to participate in their studies. Depending on the study, it may mean completing questionnaires, taking part in a phone interview or donating a blood sample. In the majority of cases, it won't be too time consuming to get involved.
When we receive research requests, we will post them below with detals & criteria.If you are a researcher looking for study participants, please email us at info@epilepsy.ie with details.
Can Dogs Predict Epileptic Seizures? - Neil Powell, Queens University Belfast (Request made September 2019)
For those of you in attendance at our National Conference, you will know that arguably one of the most talked about aspects of the day was Neil Powell's research on whether family dogs can predict seizures. Attendees were amazed at the early findings of Neil's research in that dogs are displaying a natural affinity for seizure prediction. You can read more on Neil's research goals here.                                                                                                                                                                                                                 
In continuing his research, Neil is seeking sweat samples associated with seizures. For more information on how to participate, please contact Neil directly at npowell01@qub.ac.uk.
The Awesme Study: Adolescents with Epilepsy Self - Management Experience - Orla Mooney, Dublin City University (Request made January 2020)
Orla is a PHD student in DCU and it currently conducting this study in collaboration with the Children's Health Ireland at Temple Street. She has outlined the basis of her study below. Please contact Orla directly should you wish to partake in same.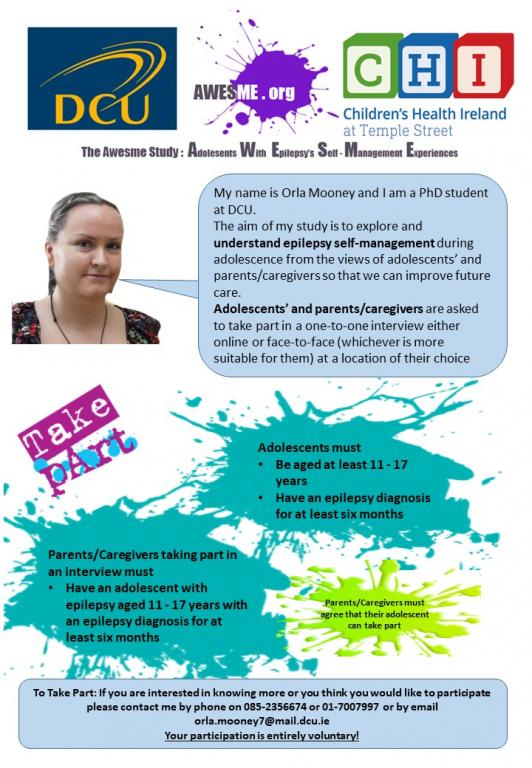 What is this study about?
We are doing this study to find out about adolescents experiences of living with epilepsy and how they manage it themselves. We would like to talk to adolescents and/or parents/caregivers.
If I wish to provide consent for my adolescent to take part?
We would like to speak to adolescents aged 11 up to 18 years and who have a diagnosis of epilepsy for at least 6 months. Please read their information sheet so you are clear what is being asked of them. If you agree to their participation, please sign the informed consent form (parental approval). We will remind them that their participation is their choice (with parental approval). If your adolescent does not wish to take part, you can still take part.
If I decide to take part myself, what will I be asked to do?
We would like to speak to you as a parent of an adolescent aged 11 up to 18 years and who has a diagnosis of epilepsy for at least 6 months. We want to explore and understand epilepsy self-management during adolescence from the views of adolescents themselves and you, their parents/caregivers.
What type of questions will we be asked?
The interview will discuss, your adolescent's epilepsy how it impacts on their daily life and how it is managed by them and you. The information gathered from the interviews will be used to identify what is most important to adolescents in relation to the self-management of their epilepsy.
How long will it take?
If you agree to take part in this study, you will be asked to choose and take part in an online or a face-to-face interview for approximately 40 – 60 minutes long, depending on how much you wish to speak about. You will have a chance to ask questions before the interview itself.
What if we don't want to take part?
We understand that not everyone will be interested in or have time to take part in our study. If either or both of you chose not to take part, this will in no way affect your adolescent's treatment at their hospital.
What are my rights if I join the study?
Participation in the study is entirely voluntary and if you agree to participate you have the following rights:
The information from this study will be kept strictly confidential (you will be assigned a participant code) and this will not be made available to anyone except the research team. Only the research team have access to the coding.
As participation is completely voluntary, you are free to withdraw from the study at any time for any reason without explanation. You are also free to withdraw your data at the end of your participation if you want to.
You have the right to refuse to answer or respond to any question that is asked.
Under the Freedom of Information Act, you can have access to any information we store about you, if requested.Phone: DCU 01-7007997 or 085-2356674
University College Cork seeking young adults with epilepsy to complete online survey
University College Cork Researcher, Carla Engel, has contacted Epilepsy Ireland seeking input from young adults with epilepsy to complete an online survey for ongoing research on the factors surrounding the well-being of young adults with long-term conditions or illnesses.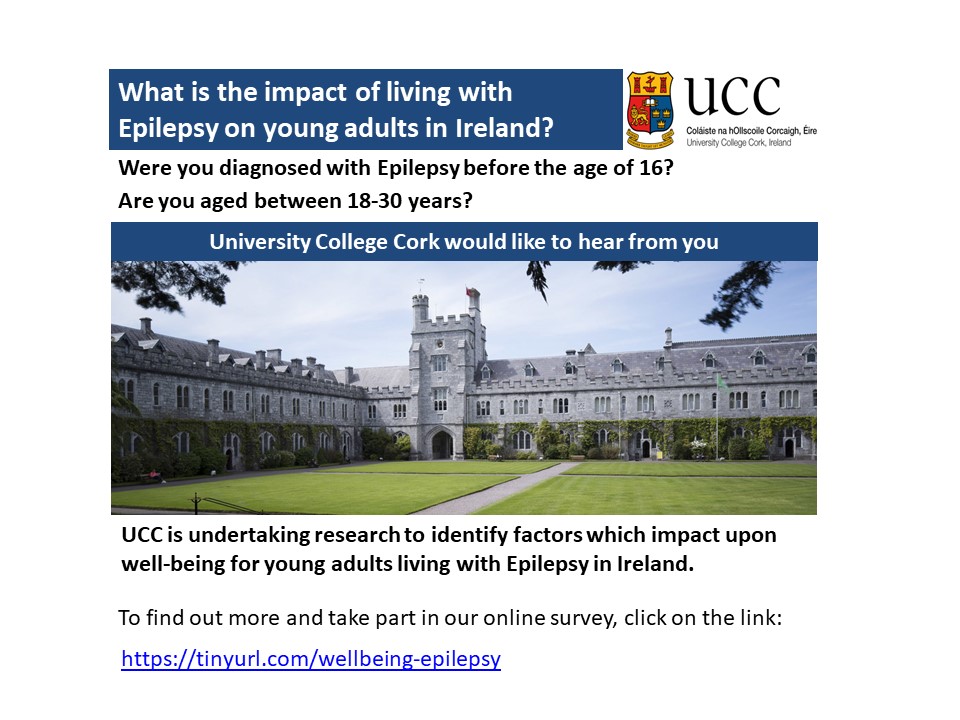 In particular, the college are seeking respondents between the ages of 18-30 in and your potential involvemnet will require completing an online, anonymous survey. 
The goal of this research is to help identify key areas for support and intervention for young adults living with long term conditions or illnesses. 
The survey can be accessed at the following link and should you have any further questions regarding this, please contact Carla via email on 119226932@umail.ucc.ie. 
Awareness and Experience of oral health side effects in people  with epilepsy taking anti-epileptic drugs.
UCC masters student Siobhan Howley is seeking you help with her study on the "Awareness and Experience of oral health side effects in people  with epilepsy taking anti-epileptic drugs."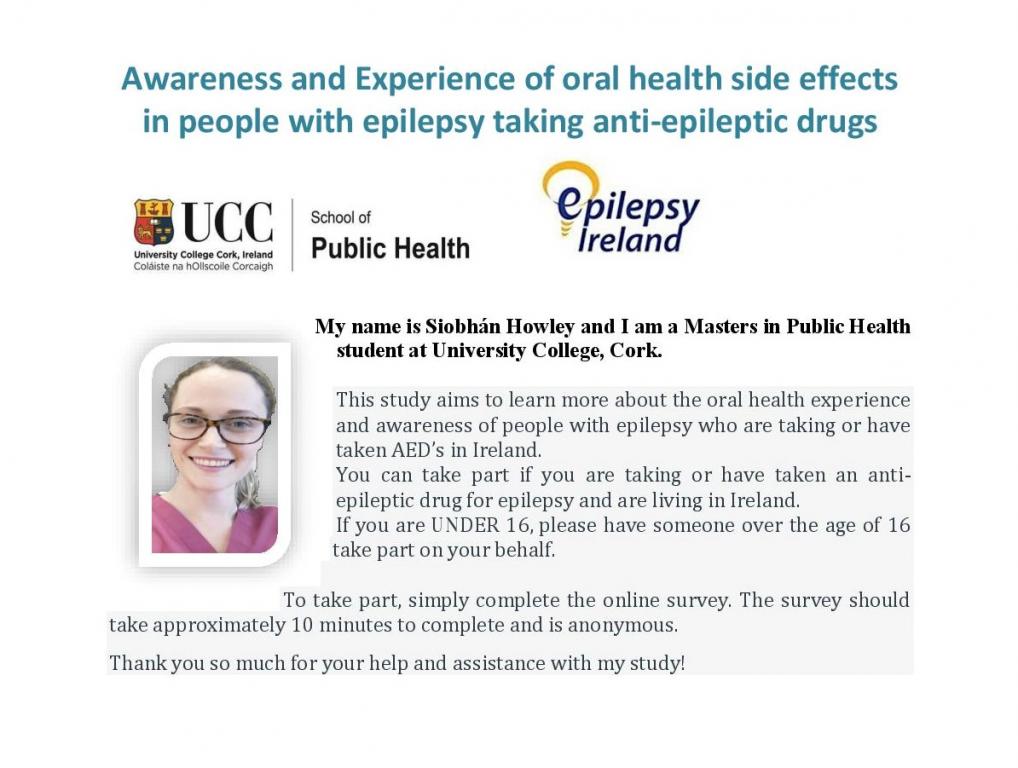 Siobhan is a dental nurse undertaking a masters in public health and has personal family connections to epilepsy and is investigating the awareness of associated side effects of AED's on dental health. She is seeking your help with this through the completion of an anonymous online survey which can be found here.
The survey should take no longer than 10 minutes and should you have any questions in relation to this, please contact Siobhán via email on 118226899@umail.ucc.ie.