Thursday, September 10, 2020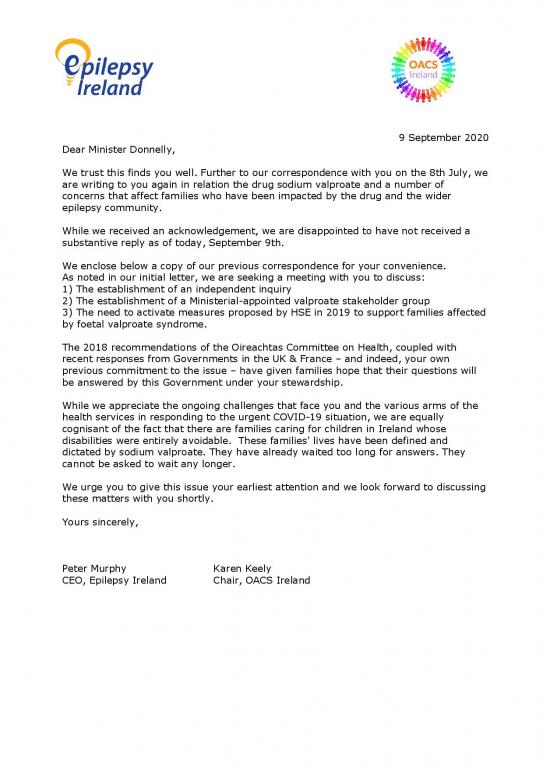 Together with our colleagues in OACS Ireland, Epilepsy Ireland have written again to Minister for Health, Deputy Stephen Donnelly, following up on our request for an urgent meeting to discuss the establishment of an independent inquiry for families impacted by Sodium Valprate (Epilim). Our further correspondence comes nine weeks after our initial correspondence with the Minister on this matter in the wake of the "First Do No Harm" report in the UK. 
You can see our further correspondence below or here. As soon as we receive a reply from the Minister on this most urgent matter, we will update our website and social media channels. 
As we await a reply from the Minister regarding this, in the interim, our colleagues in OACS Ireland have launched a petition to help raise awareness of this ongoing campaign. Please consider adding your signature to support families who have been impacted and to urge Minister Donnelly and the Government to commission an independent inquiry. You can sign the petition by clicking here.
**Please note**  Women and girls should not stop taking valproate without first discussing it with their doctor. Please contact your local Community Resource Officer or OACS Ireland should you have any concerns. 
Further reading:
Dear Minister Donnelly,
We trust this finds you well. Further to our correspondence with you on the 8th July, we are writing to you again in relation the drug sodium valproate and a number of concerns that affect families who have been impacted by the drug and the wider epilepsy community.
While we received an acknowledgement, we are disappointed to have not received a substantive reply as of today, September 9th.
We enclose below a copy of our previous correspondence for your convenience.
As noted in our initial letter, we are seeking a meeting with you to discuss:
1) The establishment of an independent inquiry 
2) The establishment of a Ministerial-appointed valproate stakeholder group
3) The need to activate measures proposed by HSE in 2019 to support families affected by foetal valproate syndrome.
The 2018 recommendations of the Oireachtas Committee on Health, coupled with recent responses from Governments in the UK & France – and indeed, your own previous commitment to the issue – have given families hope that their questions will be answered by this Government under your stewardship.
While we appreciate the ongoing challenges that face you and the various arms of the health services in responding to the urgent COVID-19 situation, we are equally cognisant of the fact that there are families caring for children in Ireland whose disabilities were entirely avoidable.  These families' lives have been defined and dictated by sodium valproate. They have already waited too long for answers. They cannot be asked to wait any longer.
We urge you to give this issue your earliest attention and we look forward to discussing these matters with you shortly.
Yours sincerely,
Peter Murphy                        Karen Keely
CEO, Epilepsy Ireland          Chair, OACS Ireland