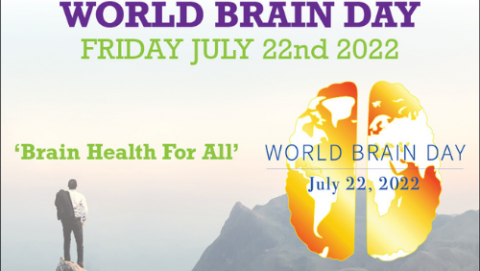 Today is World Brain Day – a day in which we recognise all those living with neurological conditions across the globe.
In Ireland, there are over 800,000 people living with a neurological condition – over 40,000 of these people are living with epilepsy.
We are joining with all our colleagues in the Neurological Alliance of Ireland to raise awareness of neurological conditions and highlight how our organisation contributes to Brain Health for all.
With the key words of this year's theme being Advocacy, Awareness, Education, Prevention and Access, below are just some of the ways in which Epilepsy Ireland is working to achieve Brain Health for All those living with epilepsy.  
Advocacy
Currently, one of our most prominent advocacy issues surrounds the eligibility criteria for the deferred sitting of Leaving Cert exams. Epilepsy Ireland has been to the fore of campaigning for a fairer system for students who experience seizures during the exam cycle, and we welcomed the recent introduction of deferred sittings. However, significant issues surrounding the eligibility criteria remain. You can read more about this by visiting the 'News' section of our website.
Awareness
One of our key aims is to educate the public about epilepsy. People with epilepsy and their families often identify to us how knowing what to do in the event of a seizure is vital information for the public to know. Unfortunately, seizure first aid can be associated with many incorrect myths and there are misconceptions that seizure first aid is very complex. This is why we have been raising awareness of the three key words of Time, Safe, Stay since 2021. Visit our 'Seizure First Aid' section of our website to learn more about these key words.
Education
One of the most unique pillars of our service is our QQI Level 5 course, 'Training for Success'. The course is for people with epilepsy whose educational or social development may have been impacted by their condition. Throughout the year long course, participants can develop essential skills for entry into the workforce or further education. Many of those who have completed the course point to it as a real turning point in their lives. We are currently recruiting for the 24th year of 'Training for Success'. Visit the 'Training for Success' section of our website to leaner more and to see whether the course is for you!
Prevention
There is one key aspect of epilepsy that we aim to prevent by educating our community about it. This is known as Sudden Unexpected Death in Epilepsy. While there is a lot we do not know about SUDEP, we do know that there are certain factors which increase the risk of SUDEP. To prevent future SUDEP related deaths, it is crucial that people with epilepsy and their families are aware of these risks and what they can do to reduce them. Visit the 'SUDEP' section of our website to learn more.
Access
Across Ireland, we have dedicated Community Resource Officers who can be accessed by people with epilepsy; their families; and the wider community for information, support, and advice around the condition. If you or your loved one needs support on their journey with the condition – or if your school or employer need further info on epilepsy, get in touch with our team! Visit the 'Our Local Service' section of our website to learn more.
These are just some of the ways we help to support 'Brain Health for All'.
None of the work we do would be possible without the generosity of our members, supporters, volunteers and the wider public. Help us continue our work towards a society where no person's life is limited by epilepsy by donating today. Visit the 'Donate' section of our website to support our work!
If you would like to learn more about epilepsy, visit the 'Epilepsy Information' section of our website – or alternatively, why not get your "degree"? Visit our 'Awareness & Campaigns' section of our site to begin your studies!
Happy World Brain Day and together, we can achieve a society where no person's life is limited by epilepsy.