"Training for Success is something I will look back on very fondly and with a lot of warmth and happiness. With the team at Training for Success I never felt alone or that I wasn't being heard because there is always someone there to listen to you", TFS Graduate, Michaela Murphy.
Epilepsy Ireland's award-winning Training for Success course is currently recruiting for the new one-year course starting August 2019.
Based on campus at the Institute of Technology Sligo, the course has had over 250 young people with epilepsy attend since its' inception in 1998.
Since that year 85% of graduates have found a job or upskilled after they completed the programme.
*Stats collated from Epilepsy Ireland Outcome Data 1998 - 2016
We have had students from all 26 counties as the course is only available in Sligo. Indeed, TFS is the only course of its kind anywhere in Europe!
Students participate in a wide variety of activities including lectures, tutorials, presentations, assignments, portfolio development, project work. discussion groups, one to one supported training, goal-setting, peer learning, outdoor pursuits and much more.
Why opt for Training For Success?
It aims to support young people to:
Identify their own personal goals and plan to achieve them
Build confidence and self esteem
Decide upon the career of their choice
Learn about the nature and management of epilepsy
TFS is a QQI Level 5 Major Award in General Studies
Modules include 
Epilepsy Management
Research and Study Skills
Word Processing
Mathematics
Communications
Teamwork
Health and Safety at Work
Customer service
Work Experience
All eligible students receive a MSLETB training allowance and an accommodation allowance. 
Why study in Sligo
IT Sligo has over 4,000 full-time students. The institute is only 10 minutes walk from the town centre with a regular shuttle bus service to the college every 15 minutes. Sligo is a vibrant town with an excellent choice of pubs, clubs, theatres and museums, something to suit everybody's needs. IT Sligo has an attractive modern campus with the best choice of purpose built student accommodation in the country. The institute offers excellent sports facilities along with a dedicated student services building. Sligo offers an excellent living environment with beautiful scenery, hill walking and water-sport facilities which are readily accessible.
For information on the course please contact Course Manager Honor Broderick: broderick.honor@itsligo.ie. 

 In 2013 Training for Success won the Aontas STAR National Award for providing "an outstanding contribution to adult education", an achievement that we are very proud of.
Graduation - 2018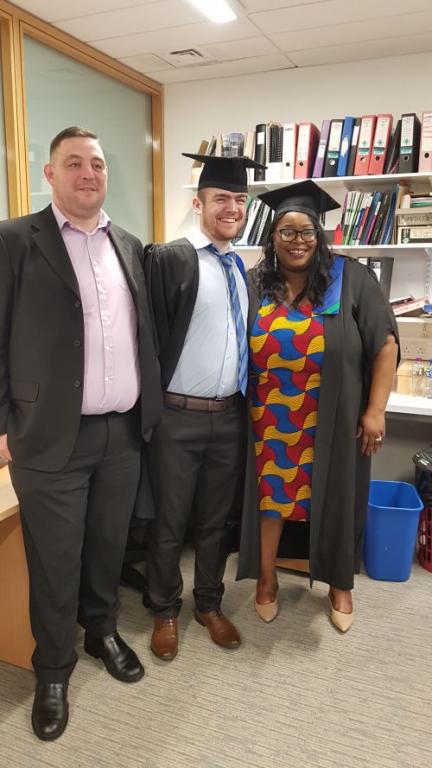 Tom Byrne, Brian Faughnan and Jennifer Omereye Jimoh pictured at the recent Training For Success graduation day.