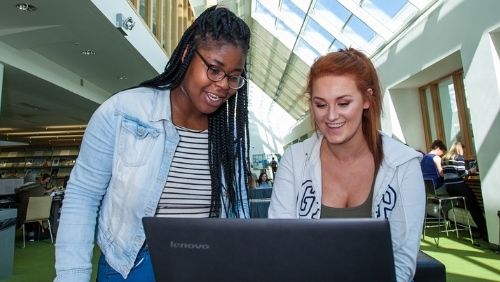 Training For Success (TFS) is one of the most unique pillars of Epilepsy Ireland's service.
TFS is a one-year QQI level 5 course that is for people with epilepsy. It is the only course of its kind in Ireland and is only available at Atlantic Technological University, Sligo.
Epilepsy can be a challenging condition – particularly when it is uncontrolled. Many people reading this will know how this can have further impacts with both their social and educational development which in turn, can impact on employment and educational prospects. Sometimes, this can lead to self-stigmatisation in thinking that further education or employment is not an option due to epilepsy.
Training For Success aims to overcome this. Throughout the year, our students learn more about how to self-manage their epilepsy while also being presented with opportunities to develop vital skills that are required for entering the workforce or pursuing further education.
One of the most unique aspects of the course is that you will be doing this alongside other people with epilepsy – who may have similar experiences to you.
Modules on the course include Research & Study Skills; Communications; Health and Safety at Work; Customer Service amongst much more.
There are also no fees payable for the course and participating students may be eligible for a training allowance payment or be able to retain their existing social welfare payment. There are no educational requirements for entry on the course but prospective students must be capable of independent living.
Participating students will also have the full experience of a University Campus. Participants are fully registered Atlantic Technological University Sligo students which means that they have full access to student discounts and can join any one of the 70+ clubs and societies on campus.
Sligo itself is a hidden gem of our country with a wonderful country meets city vibe and friendly atmosphere. Many of our former students point to the course as a turning point in their lives and often, the course forges lifelong friendships amongst participants.
If you would like to learn more about TFS and inquire about your or a family member's eligibility, please do not hesitate to get in contact with  the TFS team:
Training For Success Course Manager; Maire Tansey by emailing maire.tansey@atu.ie; Training For Success Course Administrator, Jennifer Omereye- Jimoh  by emailing jennifer.omereyejimoh@associate.atu.ie
The Training For Success team can called on the following numbers; 0858766588(Maire) ; 0858512292 (Jennifer)
At Training For Success, we provide a safe environment for these people with epilepsy where they have the opportunity to learn how best to manage their condition alongside others in a similar situation while also learning the vital skills that can help them build confidence, gain their independence and go on to enter the workforce or further education.
- Training For Success Course Manager, Maire Tansey. 
 

My epilepsy was very tough at school as it wasn't really under control and my classmates and teachers didn't really understand the condition. This unfortunately led to teasing which led to a lot of anxiety about when and where I was going to have my next seizure – which inevitably led to more seizures happening as stress & anxiety are a seizure trigger for me, like many others with epilepsy. All of this led to me missing a lot of time from school which meant that when I finished school, I really didn't know what way was forward. Thankfully, my local Epilepsy Ireland Community Resource Officer made me aware of Training For Success.
 - Former Training For Success student, Debbie Kobe.
---
Training for Success is a joint initiative between Epilepsy Ireland, Atlantic University Sligo and is funded by the Mayo Sligo Leitrim Education and Training Board.