Thursday, February 19, 2009
Our Training for Success course is still currently enrolling for the 21/22 year! Training for Success course is one of the most unique pillars of our service.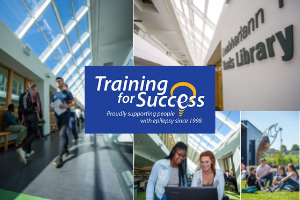 Unfortunately, epilepsy can be a condition which impacts on a person's educational and social development - especially when it is uncontrolled. The associated challenges from this can affect a person throughout their life and this is where Training For Success comes in. This one year course based in IT Sligo aims to empower people with epilepsy to manage their condition in an environment where they can learn new skills for entering the workforce or pursue further education - skills which they may not have had the oppurtunity to utilise or develop due to their condition.
At Training For Success, people with epilepsy will be part of a truly unique environment - alongside other people with epilepsy who understand exactly the challenges which you have faced as a result of the condition. You will also be guided throughout your studies by the TFS team and course tutors - all whilst learning how to better manage your condition and by learning from the experiences of fellow students. 
Get in touch!
If you feel that Training For Success would be suitable for you or a family member, we'd urge you to please get in touch with the TFS team to discuss your/their eligibility further. We would be more than happy to advise on any queries you may have and discuss the course in greater details. The TFS team can be contacted on 0719155303 or can email Maire on tansey.maire@itsligo.ie  or Edel on Feely.Edel@itsligo.ie. They will get back to you as soon as possible. Alternatively, you can download the application form HERE and can be sent back directly to Maire or Edel.
Scroll further down this page to see some frequently asked questions about TFS!
 
---
Why should I join Training for Success?
Since its inception in 1998, 85% of participants who have completed this course have gone on to either further education or employment.                               
Can I afford it? 
If eligible, students are paid a MSLETB training allowance and an accommodation allowance. To see if you are eligible, contact the Course Coordinator. There are no fees payable for the course.
Can I do this course anywhere else in Ireland?
The course is only available in IT Sligo and has welcomed participants from all over Ireland and is internationally acclaimed with students from the UK & mainland Europe also participating on the course in the past.  Training for Success is the only course of its kind in Ireland and Europe.
What are the services locally for person's with Epilepsy?
IT Sligo is right beside Sligo University Hospital which has a Specialist Epilepsy Centre with a Neurologist and two Epilepsy Specialist nurses. Our Community Resource Officer for the North-West, Agnes Mooney, also provides an outreach services in Sligo. Her details can be found
here.
Why IT Sligo?
IT Sligo boasts a modern campus in the heart of North-West Ireland. With over 4,000 full-time students, as a participant on Training for Success, you will be a registered IT Sligo student and have access to all the facilities and benefits that comes with this such as access to the gym and student health services. Sligo itself has a vibrant nightlife with something to suit everyone's taste as well as numerous tourist attractions and stunning scenery.                                                                                                                                                                         
What Level is the course?
The Course is a QQI Level 5 Major Award in General Studies.
How long is it?
The course is 1 year long (52weeks Sept-Sept).
What will I be doing on the course?
Modules include Epilepsy Management, Research and Study Skills, Word Processing, Mathematics, Communications, Teamwork, Health and Safety at Work, Customer service & Work Experience. If eligible, students will participate in a wide variety of activities including lectures, tutorials, presentations, assignments, portfolio development, project work, discussion groups, one to one supported training, goal-setting, peer learning, outdoor pursuits and much more.
When does the course begin?
The course is now underway but is still open for enrollment; please contact us if you would like to discuss your eligibility.
Where/How do I apply?
Application forms can be downloaded
HERE
or at the end of this page and completed applications must be sent to
Training for Success, The Institute of Technology, Ash Lane, Sligo.
Is there any conditions for entry?
Prospective participants must be capable of independent living. There are no educational requirements for entry.
I have further questions; is there anyone I can contact?
Should you have any questions on any of the above or require any further information, please do not hesitate to contact Maire Tansey or Edel Feely at 
Training for Success
 on 0719155303 or by email on 
tansey.maire@itsligo.ie
  or  
Feely.Edel@itsligo.ie
.                                                                                                        
How is the Course funded?
This programme is supported by the Irish Exchequer and is funded under the National Development Plan 2018-2027.

---
Further Reading and information
"At Training For Success, we provide a safe environment for these people with epilepsy where they have the opportunity to learn how best to manage their condition alongside others in a similar situation while also learning the vital skills that can help them build confidence, gain their independence and go on to enter the workforce or further education." - read testimony from our course Manager speaking about the course and the people we aim to support HERE.
"My epilepsy was very tough at school as it wasn't really under control and my classmates and teachers didn't really understand the condition. This unfortunately led to teasing which led to a lot of anxiety about when and where I was going to have my next seizure – which inevitably led to more seizures happening as stress & anxiety are a seizure trigger for me, like many others with epilepsy. All of this led to me missing a lot of time from school which meant that when I finished school, I really didn't know what way was forward. Thankfully, my local Epilepsy Ireland Community Resource Officer made me aware of Training For Success." - read testimony from our former TFS student and International Epilepsy Day Myth Buster, Debra Kobe, about her experience of Training for Success HERE.
Check out video testimony from our former TFS student, Amíe Murphy, about her experience on TFS and why you should consider joining HERE.
Watch our Training For Success Course Manager, Maire Tansey and Epilepsy Ireland Advocacy & Communications Manager discuss Training for Success HERE.
Read about our Training For Success Course Manager, Maire Tansey being recognised by the European Federation of Neurological Associations HERE.
---