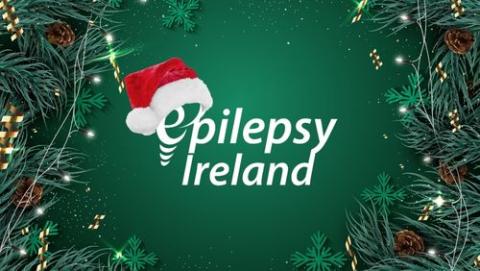 The season of goodwill is well and truly here, and we all look ahead to the festive season, we wanted to highlight our 12 Tips for Christmas for People with Epilepsy and their family members.
Often at the beginning of the New Year, our team will receive calls from people with epilepsy who have had breakthrough seizures over the festive period. This is often because routines have changed dramatically over a short period, or a person is overcome with the stresses that the Christmas period brings – amongst other factors. Our 12 Tips of Christmas will help to keep important factors to mind.
1. Plan ahead!
We've all been there – last minute hunting for the perfect gifts; rushing from shop to shop trying to get that perfect something to bring a smile to a person's face over the festive period. It's not always enjoyable! Bear in mind that stress can be a seizure trigger for many people with epilepsy. Our tip is:
Plan ahead with your shopping. Keep a list; break your list into manageable tasks between now and the big day and this should help you to reduce stress.
2. Transport and Travel
Linked to point 1, you'll also need to plan your travel to and from your local shops. If you're not driving, you'll need to co-ordinate a lift from someone or know your local public transport schedules. Public transport will likely be at full capacity now and with last-minute shopping, your local transport service could be busy or crowded – or with the recent cold snap, there could be changes to schedules and/or extra time for journeys will be required. Our tip is:
Planning ahead and knowing your local public transport schedules will help reduce stress.
3. Eat as normal
When you're out and about shopping, it can be tempting to skip eating to ensure you get your shopping or Christmas tasks done. Avoid this as we get our energy from eating. By not eating, our energy capacity reduces and therefore, so does your seizure threshold. Our tip is:
Keep to your regular pattern of eating.
4. Medication supply
Make sure that your medications are up to date and that you have enough to cover you for the holiday period. Make note of the opening and closing times of your local pharmacy during the Christmas period. Most importantly, make sure you take your medication as prescribed and as directed. Time can run away from you during the Christmas holidays, but it is very important that you ensure that you're keeping to your medication routine. This will help prevent breakthrough seizures.  Most smartphones have a reminder/alarm function, and this can be a good way to help remind you to take your meds as normal. Our tip is:
Make sure you keep to your medication routine at a time when routine goes out the window!
5. Sleep
Again, related to the point above – time can run away from you during the Christmas period between the Christmas movies and staying up enjoying the festivities with family. Lack of sleep reduces your energy which in turn reduces your seizure threshold. If you're planning a late night, rest up beforehand or make sure you catch up on your rest the following day. Our tip is:
Stick to regular sleeping habits or plan ahead if you know you're going to have a late night!
6. Alcohol
Christmas does usually come with a tendency to over-indulge and it's important to bear in mind that alcohol can be a seizure trigger for many people with epilepsy and in general, can have an impact on sleep, managing routine etc. Manage your intake over the festive period and know your limits. Our tip is:
If drinking, manage your intake and know your limits.
7. Relax!
It's the holidays! Be sure to take a moment to unwind and do something you enjoy - be it meditation, mindfulness or listening to music. There can be so much going on at Christmas between preparation and then the big day itself which can drain your energy levels and increase stress; all of which can reduce seizure frequency. Take a moment to put yourself first and take it all in. Our tip is:
Be sure to make time for yourself at what is a busy time!
8. Lights & Fireworks
For those who are living with photosensitive epilepsy, be aware that you may be exposed to more flashing lights over this period. While all local authorities should follow health and safety guidelines, it's worth remembering that this doesn't apply to your own home or that of a neighbour or family member. Risk factors for photosensitive epilepsy are flicker mainly from 15-20 flashes per second (hertz) glare and strong contrast, and saturated reds. For some people the hertz rate that affects them can be as low as 3 or even up to 50. Know what your threshold and don't be afraid to ask for the lights to be switched off it they are affecting you. If the lighting is impossible to avoid, covering one eye with one hand should prevent exposure and reduce risk of a seizure. In relation to fireworks for New Year's celebrations, it's difficult to predict the flash rates they create. Again, covering one eye with your hand during exposure can be an effective preventative measure. You can download our 'Safety & Seizures' booklet from our website which has further information on photosensitive epilepsy.  Our tip is:
If living with photosensitive epilepsy, an effective technique if faced with a triggering flash or pattern is to cover one eye with one hand during exposure.
9. Excitement
For kids and big kids alike, Christmas is the most exciting time of the year. In a similar way to stress, overexcitement could reduce a person's seizure threshold by being unable to sleep with the excitement of what lies ahead. Our tip is:
Despite the big man in red being on the way, try to keep things as calm and stable as possible.
10. Family Support
While seeing family at Christmas is an enjoyable time for most of us, for some people, being overexposed to family can be equally stressful – particularly if they have a lack of understanding about epilepsy. Consider  how you will get support and please link in with your local Community Resource Officer in advance of the holidays to discuss any concerns you may have. We will do our utmost to advise and assist in any way we can.  If you have difficulty in speaking to extended family members about your epilepsy, you might find our How2Tell resource useful in approaching speaking about your epilepsy. Visit the 'How2Tell' section of our website for more on this or why not encourage family to get a better understanding of epilepsy by telling them to get their "degree" in epilepsy awareness. Visit the 'Awareness' section of our website for more. Our tip is:
If there is a lack of understanding about your/your family member's epilepsy amongst your extended circle, be open with them to help them understand and encourage them to learn more.
11. ​Expectations
We are all guilty of putting too much pressure on ourselves at times, but this is particularly so at Christmas. Trying to make everything perfect is difficult and stressful and when things don't go to plan, it is equally disappointing and stressful. We do not live in a perfect world and mistakes with the Christmas dinner or the size of the Christmas jumper that you bought for your nephew can and will happen but don't let it get the better of you and let it stress you out. The same situation will be happening in households across Ireland – you are not alone! Our tip is:
Things can and will go wrong! If the Turkey is slightly overdone, know that the same situation is being repeated in thousands of households across the country!
12. Enjoy yourself!
This article is in no way intended to tell you to drain the fun out of your festivities; it is merely a guide for people with epilepsy to bear in mind to help prevent breakthrough seizures. It's been a long year for so many so please; kick back, rest, relax, eat too many sweets, enjoy the time with those that matter most and know that just like throughout this year, we will be there for you on the other side in 2023. Our tip is:
Have a fantastic Christmas and enjoy yourself – from everyone at Epilepsy Ireland.
Epilepsy Ireland will close for the Christmas Break from the 22nd December at 5pm until January 3rd 2023. Our team will be available until then and you can find details of your local Community Resource Officer by visiting the 'Our Services' section of our website. If you would like to support our work during the festive period, you can find out more about our Christmas Appeal by visiting the 'Fundraising' section of our website. We would like to thank everyone for their support throughout 2022 and we look forward to continuing our work towards a society where no person's life is limited by epilepsy in the New Year.