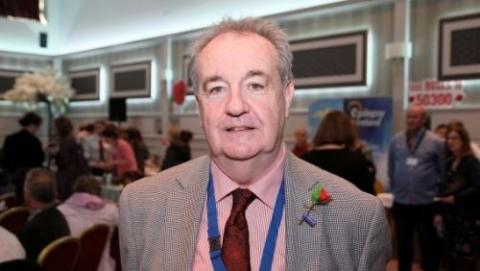 This week is a bittersweet week for Epilepsy Ireland as we say goodbye to someone who has been a stalwart of the organisation for the past 24 years.
Our Training Manager, Paul Sharkey, hands in his badge this Friday and sets about enjoying a well-earned retirement!
Paul has certainly left his stamp on Epilepsy Ireland (or Brainwave as we then were) since arriving in 1998, having played a key role in establishing some of our most important programmes in place today. Perhaps the best example is our Epilepsy Awareness and Administration of Buccal Midazolam training programme for health and allied health professionals. Under Paul's guidance and delivery, and alongside our CRO team, we have gone from training 200 people in 2009 to over 3,000 in recent years. This is now a vital – and potentially life-saving - aspect of our service and is a wonderful and lasting career legacy for the whole epilepsy community.
Paul has also acted as Epilepsy Ireland's "Quality Champion" since 2013 and led our efforts to embed quality concepts into all that we do. Under Paul's guidance, we attained the PQASSO standard in 2015 and 2018 and more recently, the IQ Quality mark in 2021. 
He also oversaw our Training for Success course in Atlantic Technological University, Sligo for many years. Paul was involved in establishing the course – which has gone on to be a flagship service with over 85% of students who complete the course going on to further education or employment.  
Many of our members and service users will be most familiar with Paul from MC-ing our National Conference, where he ruthlessly enforced time allocations and was always quick with a trademark witty comment should any technical difficulties be experienced!! Before the days of Epilepsy Ireland having a dedicated communication team, Paul was also our de-facto Communications Manager. He was responsible for our members newsletter & information booklets and could often be heard on radio educating the public on epilepsy – something he continued to help with when needed, such as when RTÉ's Drivetime called at short notice on International Epilepsy Day earlier this year.
Not many people today will remember the first ever epilepsy.ie website, but it was Paul who was given the unenviable task of building it from scratch and updating it for several years. He assures us it was a lot harder back then than it is now! Somehow this led to Paul being branded as "the IT guy", and for many years filled the helpdesk role with great gusto, even if "have you tried turning it off and on again" rarely helped!
This just scratches the surface of Paul's contribution to Epilepsy Ireland but his expertise, dedication and above all, ability to communicate complex information simply and succinctly has helped move us further along the road towards our vision of a society where no person's life is limited by epilepsy.
We are sorry to be saying goodbye to a familiar face, but we are pleased to announce that Paul will be passing the baton to another familiar face – with current Epilepsy Ireland Community Resource Officer for North Dublin & Kildare, Edel Curran, taking on the challenge of filling Paul's boots as our new Training & Quality Manager! We know it will be a difficult task, but if anyone can do it, it's Edel!
Thank you for everything Paul – you have earned every minute of your well-deserved retirement!