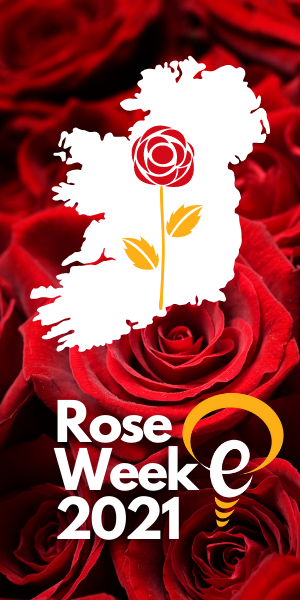 Rose Week took place from October 11th - 17th and we would like to thank everyone who supported our national fundraising week - be it by donating, taking part in a virtual challenge, by planting a virtual rose or by using their socials to help spread the word about the work of Epilepsy Ireland.
If you were unable to donate during the week or missed any of the stories we shared during #RoseWeek, we have linked to these below. While Rose Week was our national fundraising week where we put a sole focus on our need to raise funds to support our work, fundraising efforts take place year round. If you would like to get involved or have a fundraising idea, please do not hesitate to get in touch with our team by emailing fundraising@epilepsy.ie.
Once again, thank you for your support and together, we can achieve a society where no person's life is limited by epilepsy.
Plant a Virtual Rose!
If you didn't get a chance to plant a rose in your county during the week, our interactive map remains live so you can still plant your virtual rose today. Viist our map to plant your Rose now! 
Drop us a text!
If interactive gardening isn't for you, you can also still support #RoseWeek via text! Simply text "ROSES" to 50300 to donate €4 and encourage friends and family to do likewise. (100% of your donation will go to Epilepsy Ireland. Some mobile operators charge VAT so a minimum of €3.25 will go directly to Epilepsy Ireland. Service Provider: LIKECHARITY. Helpline: 01 4819361
Read Sarah's story
In a fantastic personal testimony, Sarah Dromey from Dublin shared her experience of living with epilepsy and outlined why the public should support Epilepsy Ireland. Take a moment to read Sarah's story today.
Read Lorraine's story
In another personal tesitmony - this time from the perspective of a mother with a child with epilepsy - Lorraine shared her experience of her daughter Reagan's recent diagnosis of epilepsy and how Epilepsy Ireland were there to support her. Take a moment to read Lorraine's story today. 
#7ReasonsWhy
For #RoseWeek we highlighted #7ReasonsWhy the public should support our work. These are applicable year round and are just a few select reasons why we need your support. Please feel free to read our #7ReasonsWhy article and share with family and friends to show the impact their donations can make to our work towards a society where no person's life is limited by epilepsy.
Once again, thank you for all your support for Rose Week - it is greatly appreciated. As always, should you require support with your or a family member's epilepsy, please do not hesitate to contact your local Community Resource Officer.