Rose Week 2021 is on the horizon with the week taking place this year from October 11th - 17th.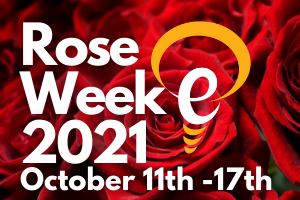 Rose Week is our main fundraising week of the year and once again, we will be seeking the support of the public to help us raise vital funds for our support services; public awareness & advocacy campaigns; education and training resources and research activities.
As a result of the pandemic, we experienced a 50% drop in fundraised income. At the same time, demand for our service increased with contacts with our one-to-one supports increasing from 9,836 in 2019 to 11,392 in 2020. Throughout the pandemic, our work in training, education, awareness raising, research and advocacy has all continued. With this year seeing a similar trend, Rose Week is a crucial week to help raise funds for our service and your support is vital.
Once again, this year, the fundraising efforts are going to be taking place online. Below are some ways in which you can help support our work in the lead up to Rose Week and across the week itself:
Donate on our website!
You can support our work during and in advance of Rose Week by donating on our website by clicking HERE.
Devise a virtual challenge!
Last year BJ Botha and the UL Bohs completed 40,000 push-ups in recognition of the 40,000 people with epilepsy during Rose Week to raise funds for Epilepsy Ireland. Meanwhile, Lorna Doolan from Dublin took on several inventive challenges in support of Epilepsy Ireland – including dressing up as the pink power ranger and completing 1km on a space hopper (you read that correctly)! As these examples show, there is any number of challenges that you can take part in virtually and seek sponsorship for. We have listed a few suggestions below:
Clock up those KMS and get together with friends and family to walk or run 40km in recognition of the 40,000 people living with epilepsy in Ireland today!  
Take inspiration from BJ's challenge and complete 2,000 push-ups collectively with friends and family in recognition of the number of new diagnoses of epilepsy every year!
Complete 50 star jumps every day in recognition of the fact that there are over 50 types of seizures!
These are just suggestions for virtual challenges and we are all ears if you have an idea that you'd like to discuss with us. If you are holding a fundraiser in support of our work, we would recommend that you host this on Facebook as we receive 100% of the donations and funds are automatically transferred to us – ensuring you can focus solely on your challenge! Please contact fundraising@epilepsy.ie if you'd like to get involved or are planning on fundraising virtually for Epilepsy Ireland.
Share your story
If you have been positively impacted by our work, Rose Week is the perfect time to share your experience with others and encourage them to support our work. Key to public understanding of what we do is the real people and families who have used our service. If you are willing to share your experience of Epilepsy Ireland to help our fundraising efforts for Rose Week, we'd love to hear from you. You can share your story via video or by writing a short personal account for our website and social media channels. We would of course be more than willing to help assist you with this. If you are interested in assisting with this aspect of our campaign, please get in touch with our Advocacy & Communications Manager Paddy on pmcgeoghegan@epilepsy.ie. Look back on Etain Delaney's personal story from Rose Week 2020 HERE. 
Drop us a text!
One of the easiest ways to support our work is through a simple text. Simply text "ROSES" to 50300 to donate €4 and encourage friends and family to do likewise. (100% of your donation will go to Epilepsy Ireland. Some mobile operators charge VAT so a minimum of €3.25 will go directly to Epilepsy Ireland. Service Provider: LIKECHARITY. Helpline: 0766805278)
As Rose week approaches, this page will be updated to outline the different ways that you can help support our efforts across the week. We look to forward to our Rose Week campaign and have no doubt that you will once again do your utmost to spread the word as you have done throughout the pandemic. Thank you for your continued support.
#RoseWeek #RW2021