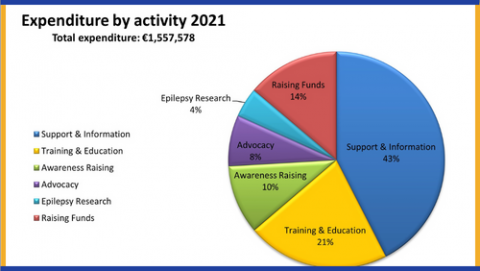 We have published our 'Use of funds' statement for 2021. This statement outlines to our members, service users, volunteers, supporters, donors and the public how we raise and use our income at Epilepsy Ireland.
The statement is based on our audited accounts for 2021.
Total income was €1,532,380 while total expenditure was €1,557,578 – meaning a small deficit of €25,198 was recorded.
Of every euro donated to Epilepsy Ireland, 86c was spent on direct charitable objectives – while 14c was spent on raising funds.
Thanks to the dedication of our members, supporters and volunteers throughout difficult times due to the pandemic, we recorded a 6% increase in our fundraising activities from 2020 with total fundraising income amounting to €425,007.
However, the impact of the pandemic continues to be felt as this is substantially lower than our last "normal" year in 2019 – when fundraising income amounted to €594,762.
The impact of the pandemic and the current cost of living crisis will continue to impact on our organisation for years to come so if you are in position to do so, please consider supporting our work towards a society where no person's life is limited by epilepsy by visiting the 'Donate' section of our website.
We would like to thank everyone who contributed to work of Epilepsy Ireland in 2021 and we hope we can continue to have your support as we look to the future.
You can read our entire statement on our use of funds by visiting the 'Use of Funds' section of our website.
Should you or your family member require any assistance or support on your journey with epilepsy, please do not hesitate to contact your local Community Resource Officer. You can find their details by visiting the 'Our Local Service' section of our website.