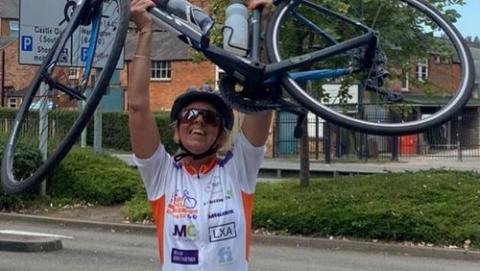 We were delighted to see that the committee and participants of the incredible Cycle for Shane being recognised as part of the annual Mayo People of the Year Awards.
The cycle was established in memory of the late Shane Corrigan who passed away from SUDEP in 2018 and seen participants travel all the way from London to Achill Island.
Their efforts, in support of Epilepsy Ireland and our colleagues in SUDEP Action, have seen just under £140k donated (as of this writing).  Through their efforts, they have also raised awareness of epilepsy and SUDEP amongst both the public and the epilepsy community.
With the funds raised, it is planned to extend SUDEP Action's renowned SUDEP and Seizure Safety Checklist to Ireland. This resource has widely been integrated into the care of people with epilepsy in the UK to help clinicians discuss SUDEP risk and to make people with epilepsy and their families more aware about SUDEP.  This is a wonderful legacy for future generations of people with epilepsy in Ireland in Shane's name.
It is fitting that this award was announced on the same week as SUDEP Action Day – and again the Corrigan family were involved in Epilepsy Ireland's awareness raising efforts with Shane's sister Megan penning a powerful piece about the loss of Shane to SUDEP. You can read this article in full by visiting the 'SUDEP' section of our website.
To learn more about the Cycle, visit the 'Cycle for Shane' section of our website. The fundraising page for the Cycle also remains live, and if you would like to make a donation, visit their page on the Gofundme website.
We would like to offer our congratulations to the entire Cycle for Shane team on this fantastic accolade – and would particularly like to pay tribute to Shane's family – Margaret, Kevin & Megan for their fantastic work in organising the Cycle.
Shane Corrigan - Ar dheis Dé go raibh a anam.
For further information on SUDEP, visit the 'SUDEP' section of our website.