Wednesday, September 1, 2021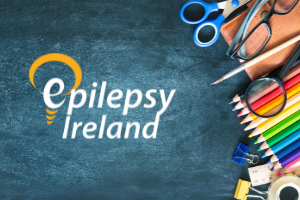 Well, where did that Summer go?!!
Whether you can believe it or not, the kids are back at school and on what is the traditional back to school day, we wanted to remind everyone of some of the resources that we have available for parents of children with epilepsy and the school community as a whole.
While returning to school can be an exciting time for both parents and children alike, we know that there can often be some worry from parents of children with epilepsy about their condition in the school environment and how it might be managed in the event of a seizure.
For this reason, we have highlighted some useful information and resources that we have available for parents.
Seizures and School
It has been consistently recommended that any child with epilepsy who could have seizures in school - even in "normal" times - has their own Individualised Care Plan.  Such a plan is detailed in our Education and Epilepsy Information Pack which is available for download here. Such a plan should cover the following information:
what types of seizures the child has
what triggers the seizures (if known) and which triggers might be modifiable
how they are to be managed from a first aid perspective
who is to administer first aid
whether emergency medication is prescribed for prolonged seizures and if prescribed, that it is in date
who is to administer emergency medication
details of who is to be contacted and when
what an emergency is for that individual child
arrangements for recovery
any effects on concentration, behaviour and learning from the seizures or medication
It must be stressed that seizure management needs have not changed because of COVID-19 measures. Seizures still need to be responded to, as they always have been - as per the child's care plan.
However, what now also needs to be considered is the safety of the first responder and the encouragement of taking preventative measures against COVID-19 - such as ensuring that they are wearing a facemask or that they have sanitised their hands before responding to a seizure.
In addition to seizure first aid in a COVID-19 environment, it would be reasonable to say that if the child is wearing a mask, you should remove the child whilst having a seizure (if possible) and when they are in the recovery stage after the seizure subsides. 
However, it is also important to remember that schools may have their own policies with regard to seizure incidences in school - such as immediately calling an ambulance for example. This is something you would need to discuss with your child's school in the context of their care plan.
How Epilepsy Ireland can help you, your child, and their school with their return to the classroom.
There are a number of ways we can help and we have listed these below:
Community Resource Officers - they are there to support you and your child on their journey with epilepsy. They also deliver epilepsy education and awareness talks to schools. If you are a parent or a teacher and would like to discuss the possibility of this for your child/school, please do not hesitate to get in touch. Details of your local Community Resource Officer are available here.
Education Information Pack - this is a very useful and detailed resource on epilepsy for both parents and teachers alike. You can download the Pack here.
Epilepsy Awareness and Administration of Buccal Midazolam Training for Professionals- Buccal Midazolam is a rescue medication which is administered during a seizure under medical advice to reduce seizure duration. Given promptly, this relatively simple procedure can prevent major disruption to daily life resulting from hospital emergency treatment. We have delivered this training to thousands of professionals over the years including teachers and SNAs. Please contact your local Community Resource Officer or our Training Manager, Paul Sharkey on info@epilepsy.ie to find out more.
Epilepsy Awareness and Administration of Buccal Midazolam for Parents - our team of Community Resource Officers can also carry out demonstrations online for parents and for families on a one-to-one basis. Please contact your local CRO if you would like to discuss. 
Epilepsy and School - please see list of common FAQ's here and download our Epilepsy and School Booklet here.
Epilepsy and Children; A Guide for Parents - this resource may be very useful for parents where the child has recently been diagnosed and is available for download here.
COVID-19 and Epilepsy
With regard the virus, please see below key points in relation to children with epilepsy:
There is no evidence to date that children with epilepsy as a group are more at risk of contracting the virus
In addition, there is no evidence that those with epilepsy are more at risk of being more severely impacted by the virus if they do contract it
However, note that a high temperature can be a seizure trigger for some children so it is important to be alert to raised temperatures should a child contract COVID-19
We hope this article was of assistance to parents and we wish you and your children every best wish with the return to school. Please do reach out to your local Epilepsy Ireland Community Resource Officer if you need any advice or support with your child's epilepsy – we are here to take your call.  You can find details of your local Community Resource Officer HERE.