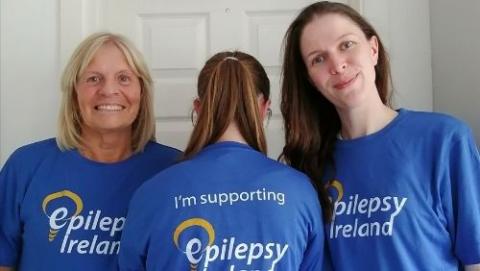 This week is National Volunteering Week - a week in which we celebrate the incredible work which is done by volunteers across Ireland.
At Epilepsy Ireland, we depend on the support of our wonderful volunteers across the length and breadth of the country – to help us raise the vital funds required to continue our work towards a society where no person's life is limited by epilepsy; and to help raise awareness of a condition which affects 40,000 people across Ireland today.
To each and every one of our volunteers who have made a contribution to our work, we would like to take this opportunity to say thank you.
While we already boast a fantastic network of volunteers, we are always on the lookout for more people to get involved in our work. If you would like to get involved in the work of Epilepsy Ireland during National Volunteering Week, you can do so in the following ways:
Fundraising Volunteers
Our fundraising volunteers are integral to ensuring we can continue our services across Ireland. Fundraising volunteers help us co-ordinate and support flagship events such as Purple Day® and Rose Week; as well as taking part in fundraising efforts such as marathons, coffee mornings or other fundraising activities. If you would like to get involved in our community-based fundraising efforts, visit our new 'Volunteer' section of our website, fill in your details and our team will be in touch!
Media Volunteers
Key to raising awareness of epilepsy is by hearing from and sharing stories from those living with the condition. Our media volunteers are key to helping us raise awareness of epilepsy and in helping educate the public on the individual nature of the condition. If you would like to become a media volunteer, please email our Advocacy & Communications Manager Paddy McGeoghegan, on pmcgeoghegan@epilepsy.ie.
We look forward to adding to our dedicated bank of volunteers and once again, would like to thank all our volunteers for their continued support and the immense contribution that they have made to the work of Epilepsy Ireland.