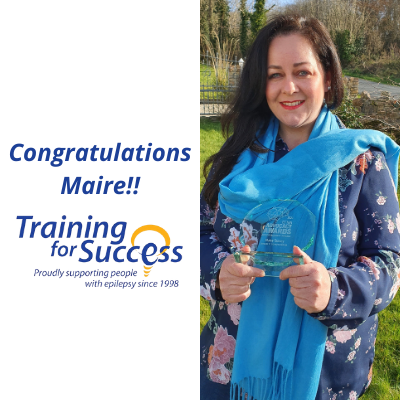 We are delighted to announce that our Training For Success Course Manager, Maire Tansey, has been acknowledged in the European Federation of Neurology Associations Advocacy (EFNA) Advocacy Awards.
The biannual awards recognise the contribution of an individual or group to the development and promotion of advocacy for people with neurological disorders in Europe. The topic this year was 'Action against stigma'.
While there were only two categories under the awards (individual and organisation), the judges felt that Maire's work deserved to be highly commended and acknowledged by EFNA. Maire has worked on our Training For Success course since it's inception in 1998.
The course is is a joint initiative between Mayo Sligo Leitrim ETB, IT Sligo and Epilepsy Ireland, designed to support people with epilepsy who may have experienced difficulty in school, in choosing a career, or may have had to change career direction as a result of developing epilepsy. It aims to provide people with the skills they need to self-manage their condition alongside equipping them with the tools they need in order to pursue further education or enter the workforce. They do this alongside other people with epilepsy who are in a similar situation to their own which makes the course very unique and students forge lifelong friendships by attending the course.
All of the above is done under the guidance of Maire and she has had a hugely positive impact on the lives of so many young people with epilepsy by fostering an environment where they can learn and grow. We are immensely proud that 80% of those who complete the course, go on to enter further education or enter the workforce. Maire is the driving force behind this and we are absolutely delighted that her two decades of achievement have been recognised internationally in the inaugural EFNA Awards.
You can read more on Training For Success HERE and be sure to get in touch with Maire should you be interested in joining the course next year.
#