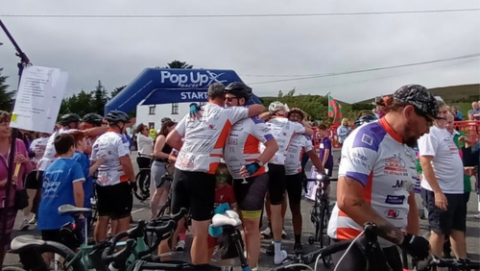 Over the weekend, the fantastic Cycle for Shane team completed their journey from London to Achill in memory of the late Shane Corrigan. 
In Achill - and all across their route since they landed in Ireland last Wednesday - the Cyclists received an incredible reception. This was more than deserved for their wonderful efforts in Shane's memory. We hope that the Cyclists are now having a well-deserved rest but even though the Cycle is complete, their fundraising page remains live on Gofundme. 
So far, over £56k has been donated to this epic cycle in Shane's memory. With the funds raised, it is planned to extend SUDEP Action's renowned SUDEP and Seizure Safety Checklist to Ireland. This resource has widely been integrated into the care of people with epilepsy in the UK to help clinicians discuss SUDEP risk and to make people with epilepsy and their families more aware about SUDEP.  
This would be a lasting legacy for Shane and for the wonderful efforts of the Cyclists to raise funds in his name for Epilepsy Ireland and SUDEP Action. 
Please consider donating to this fundraiser and help the Cycle for Shane team hit their target. You can donate by visiting their dedicated Gofundme page. 
You can also learn more about the Cycle and Shane Corrigan by visiting the 'Cycle for Shane' section of our website. 
We would like to congratulate and thank everyone involved in this epic cycle - we have no doubt that Shane would be immensely proud of you all. 
Shane Corrigan - Ar dheis Dé go raibh a anam.