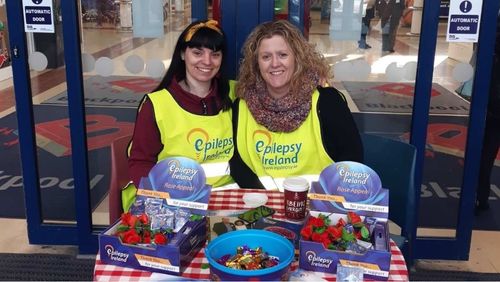 Epilepsy Ireland's National fundraising week, Rose Week took place from October 10th-16th. We issued an urgent appeal for the public's support to help us continue to be there for people with epilepsy and their families and we would like to thank everyone for their support throughout the week. 
Due to the pandemic, we have experienced a 50% drop in our fundraised income. This is at a time when we are experiencing record demand for our services – with over 22,000 contacts with our service in 2021.
We believe that we extract maximum value from the funds we receive – with 86c of every euro spent on direct charitable activities – such as our support & information services for people with epilepsy and their families; our training and education programmes for those who may be supporting a person with epilepsy in the community; our awareness & advocacy campaigns; and our investment in Irish epilepsy research.
Every donation we received is vital to help us continue this work now, and into the future. If you did not get to donate during the week itself, you can still support our work in the ways listed below:
Making a vital donation by visiting the 'Donate' section of our website
Donating €4 by text by texting ROSES to 50300 (100% of your donation will go to Epilepsy Ireland. Some mobile operators charge VAT so a minimum of €3.25 will go directly to Epilepsy Ireland. Service Provider: LIKECHARITY. Helpline: 01 4819361)
To learn more about Epilepsy Ireland and our work, you can download our latest Annual Report at the end of this article. You can also read about how we use and generate our funds by visiting the 'Governance' section of our website.
This year's Rose Week came shortly after we have launched our new Strategic Plan – an ambitious blueprint on how we would like to improve our service and the lives of people with epilepsy in Ireland over the next 5 years. The plan is also available for download at the end of this article. The support we received during Rose Week will help to make the vision of this plan a reality. 
Thank you for your support and together, we can achieve a society where no person's life is limited by epilepsy.
If you would like to get further involved in our  fundraising activities, please get in touch with our team by emailing fundraising@epilepsy.ie.