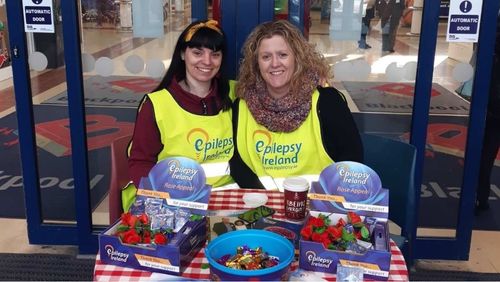 Epilepsy Ireland's National Fundraising Week, Rose Week takes place this year between October 10th and 16th. This is a huge week for Epilepsy Ireland as we seek to raise the funds required to continue our journey towards a society where no person's life is limited by epilepsy.
We are appealing to our dedicated members, supporters, and volunteers to help create a presence in communities across Ireland to encourage the public to donate to our work. There are a number of ways you can get involved and we have outlined these below.
---
Become a Rose Week Regional Co-ordinator!
As a Rose Week Regional Co-ordinator, alongside our fundraising team, you will act as a point of contact within your region/county for fundraising activities taking place in your area across the week. This role will allow you to meet others who are hosting events and to help support them with their activities. Contact Sarah on swest@epilepsy.ie to discuss this role in further detail!
---
Sell Rose Pins for Epilepsy Ireland!
For Rose Week, we will be back out in communities across Ireland selling Rose pins in the name of Epilepsy Ireland to help raise funds for our work. If you can spare a few hours during the week in your local area to help sell these pins, get in touch with fundraising@epilepsy.ie and let us know when and where you might be able to help! We can also arrange for these Rose pins to be sent to local schools, businesses, or workplaces if they are willing to sell them. If you know someone/somewhere that may be willing to sell pins in their premises, get in touch on the email above.
---
Have a special event at home, work, or school!
Why not consider hosting a special coffee morning at home to support Rose Week? Or a no-uniform day at school? Or get your colleagues together at work and run 40km collectively every day during Rose Week in recognition of the 40,000 people living with epilepsy? Whatever your idea, we're here to help support you in making it happen. If you have an idea to help raise funds during Rose Week, get in touch with our team to discuss these further. Email fundraising@epilepsy.ie with your details and our team will be in touch!
---
Thank you in advance for your support and please do not hesitate to get in touch should you wish to get involved in any way during Rose Week!