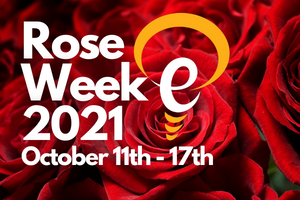 Media Release
Epilepsy Ireland have appealed to the public to support their National Fundraising Week, Rose Week, which takes place from the 11th -17th October.
The charity has experienced a 50% drop in fundraising since the start of the pandemic, alongside an increase in demand for their one-to-one support services for people with epilepsy and their families.
This is the second year in a row that Rose Week will take place online, meaning the organisation will be without traditional fundraising events such as coffee mornings, non-uniform days and on-street fundraising where traditionally, thousands of Rose pins would be sold in communities across Ireland.
Epilepsy Ireland Fundraising Manager, Stephen Lowry, explained how the public can still get involved in supporting the work of Epilepsy Ireland.
"Rose Week is vital to our work at Epilepsy Ireland, not just in the essential support, training and education we provide, but also in ensuring we can maintain our advocacy, research funding and awareness raising efforts. This year we are asking the Irish public to visit our interactive map at roseweek.epilepsy.ie, make a donation, plant a virtual Rose in their county and share their message of support. There will be a tracker of how many Roses are planted in each county – so we hope that the map will stir up competition along county lines with each county looking to outscore their closest rivals!"
"We're also amazed with all the creative virtual ideas that volunteers are coming up with to replace traditional events. We'd welcome even more of these virtual fundraising efforts during Rose Week sp please get in touch if you have an idea! Of course, these continue to be difficult times financially for many people and even if you are not in a position to donate, there are still ways to help. We're asking supporters to 'donate' their social channels during the week and set up donate buttons or use our pack of social media resources to tell the world about epilepsy, Epilepsy Ireland and Rose Week.
"We need your support to aim for a future in which no person's life is limited by epilepsy. We have invested over €1 million in Irish epilepsy research over the past decade; we have run ground-breaking public awareness campaigns which are dispelling the myths around epilepsy and breaking the historical stigma associated with it; we have trained thousands of teachers, SNAs & healthcare professionals on epilepsy and on administering potentially life-saving emergency medication; we are providing training opportunities to young adults whose education has been affected by their epilepsy; and crucially, through our network of Community Resource Officers, we remain on-hand to support people with epilepsy and their families throughout every step of their journey".
You can learn more about Rose Week by visiting the dedicated Rose week page on www.epilepsy.ie. Visit the Rose Week map at roseweek.epilepsy.ie.
ENDS