Parents Western Region Support Group Meeting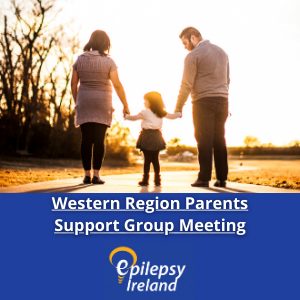 As part of our activities in the lead-up to National Epilepsy Week, we are delighted to offer this support group for parents living in the West.
Epilepsy is a condition which affects the entire family unit. While epilepsy is a journey for the person living with the condition, it also a journey for their parents & guardians. 
This is why we offer support groups for parents of children/people with epilepsy. The groups offer you a chance to meet with others who may be in a similar situation or who may have experience of a situation you are now experiencing. The support group offers a safe environment to share experiences with others who understand the stress and worry which can come hand in hand in caring for someone with epilepsy.
At the support group, our Community Resource Officer for the region, Edel Killarney will also be on hand to provide information and insights and to let you know how Epilepsy Ireland can support you throughout your journey with epilepsy. 
If you have any questions about this event, please email Edel on ekillarney@epilepsy.ie. 
We look forward to welcoming you on the day.
WHEN: Tuesday 18th May, 10:30am.
WHERE: Your home, via Zoom!
REGISTRATION:
 Please note this event is for parents in Galway, Mayo & Roscommon. If you are outside of these regions and are interested in a similar group for your area, please contact your local 
Community Resource Officer
. To register for this event, please email Edel on
ekillarney@epilepsy.ie
.