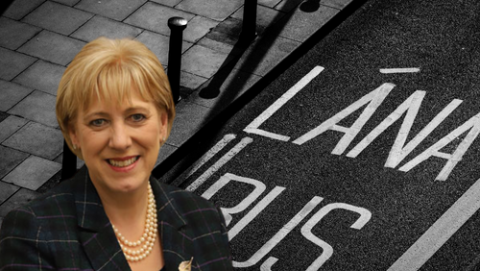 Our colleagues in the Irish Epilepsy League have written to the Minister for Social Protection in support of Epilepsy Ireland's proposals on improved access to the Free Travel Scheme for people with epilepsy.
The Irish Epilepsy League are the Irish chapter of the International League Against Epilepsy. Their membership is made up of epilepsy healthcare professionals, scientists and researchers working in or investigating epilepsy in Ireland.
In their correspondence, the IEL have outlined their full support for our proposals – highlighting their direct experience of telling patients they cannot drive due to their condition and the challenges which exist for people with epilepsy and their families as a result.
The Irish Epilepsy League's correspondence is available to read in full at the end of this article or can be downloaded on our website. The correspondence has also been forwarded to the Oireachtas Committee on Social Protection.
We would like to thank the Irish Epilepsy League for supporting our calls on this most important matter. 
With regard to the current status of our proposals, the Minister has stated in Dáil questions that she awaits a final report from her officials on this matter.  Regarding the final report, the Minister has stated she will "carefully consider its contents and any recommendations that it may contain."
You can see one of the most recent Dáil replies in full below:
Deputy Rose Conway-Walsh (Mayo, Sinn Fein) - To ask the Minister for Employment Affairs and Social Protection the supports in place for adults in rural communities who receive a diagnosis of epilepsy and automatically lose their licence until being seizure-free for one year; if the Government is considering an automatic entitlement to free travel; and if she will make a statement on the matter. [6424/23]

 

Minister Heather Humphreys (Cavan-Monaghan, Fine Gael) - The Free Travel scheme provides free travel on the main public and private transport services for those eligible under the scheme. There are over one million customers with direct eligibility. The estimated expenditure on free travel in 2023 is €95 million.

It is important to note that, in general, access to a free travel pass for those aged under 66 is a secondary benefit linked to a person being in receipt of certain primary Social Protection payments such as Disability Allowance, Invalidity Pension, Carer's Allowance, Blind Pension and Partial Capacity Benefit. As many illnesses or physical conditions have impacts ranging from mild to severe, entitlement to these social welfare schemes is not provided on the basis of a diagnosis but on the basis of the impact of that diagnosis on the individual concerned and, in the case of Disability and Carer's Allowance, subject to an assessment of their means. In this way, resources can be targeted to people in most need.

I am aware of an ongoing campaign by Epilepsy Ireland. I fully recognise the issues and difficulties that can arise due to a person being diagnosed with epilepsy and who is unable to drive as a result of their condition.

Following a meeting with representatives of Epilepsy Ireland to discuss its proposal in detail, I asked my Department officials to examine the issues raised in relation to access to the Free Travel scheme.

My officials advise me that they are currently finalising the report and I expect to receive it shortly. I will carefully consider its contents and any recommendations that it may contain.

With regard to financial supports, the Department of Social Protection provides Additional Needs Payments as part of the Supplementary Welfare Allowance scheme for people who have an urgent need, which they cannot meet from their own resources. These payments are available through our Community Welfare Officers and include help towards recurring travel costs that cannot be met from the person's own resources and are deemed to be necessary.

I hope this clarifies the matter for the Deputy.
We eagerly await this final report and we hope it will contain positive recommendations on this longstanding issue. We will continue to use every avenue available to us to progress this matter with the Minister; her Department; and the Government in order to achieve progress on this issue for people with epilepsy.
In the meantime, you can read more about this issue by visiting the 'Advocacy' section of our website – where you will also find a template letter which you can send to your local TD or Senator in support of our calls.
Should we receive any further updates on this matter, we will provide an update on our website and social media channels.