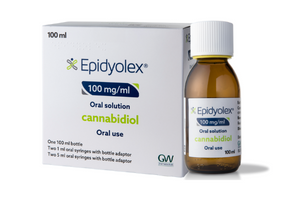 The HSE have confirmed that Epidyolex will be reimbursed by the State for patients with Dravet Syndrome, Lennox Gastaut Syndrome and Tuberous Sclerosis (TSC).
Epidyolex is a cannabis-based medication and only contains trace levels of THC (learn more about this by visiting our Medical Cannabis mini-site). It is the only licensed cannabis-based medication for epilepsy in Europe and has long-term clinical evidence supporting its use in the treatment of the forementioned rare epilepsies.
The confirmation of reimbursement means that the medication will now be available under the medical card, Long-term Illness, and Drugs Payment Scheme. This is an extremely welcome development for families who are caring for loved ones with these refractory epilepsies.
While it has been possible to source Epidyolex in Ireland since 2019, the drug not being approved for reimbursement meant that families had to pay for the medication. The costs involved were simply unsustainable for families – with many facing bills of thousands per month.
The approval of reimbursement means that patients and their families can now readily access this medication when prescribed by their clinician and will not be faced with huge bills.
Epilepsy Ireland supported the reimbursement of Epidyolex by making a submission to the National Centre for Pharmacoeconomics in late 2020. In this submission we highlighted the impact of Dravet Syndrome & Lennox Gastaut Syndrome on the entire family unit; their severity and difficult to treat nature; and how there is a lack of treatments available for clinicians to use in their treatment.
For these reasons, we are delighted to see the reimbursement of Epidyolex confirmed.
Epilepsy Ireland CEO, Peter Murphy, welcomed today's development commenting, "Today's announcement by the HSE marks a very important day for us and for the patients we represent. We have been advocating for the reimbursement of Epidyolex for some time as the clinical evidence demonstrates its effectiveness.  Gaining access to this medicine can significantly reduce the frequency of seizures for many patients. Today's announcement means that Epidyolex is now covered by the Long-Term Illness, Medical Card & Drug Payment schemes. We very much welcome the decision, which makes it a much more accessible treatment for those who are likely to benefit from its prescribing."
If you are using any cannabis product in the treatment of your epilepsy, please discuss this with your medical team. Further information on the use of medical cannabis in epilepsy can be found by visiting our medical cannabis and epilepsy mini-site.