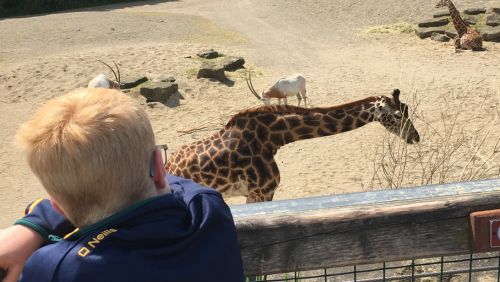 10 Jun 2023
**In order to finalise numbers with Fota island, registration for this event has been closed since 22nd May. However, if you missed our direct notice about this or our social media promotion, please contact your local Community Resource Officer if you are interested in attending. We will do our utmost to accommodate late booking requests but we cannot guarantee that they will be processed. You can find details of your local Community Resource Office by visiting the 'Our Local Service' section of our website. You can see further information about this event below**
Our Family Fun Day is heading South this year, with a big day out planned for children/parents with epilepsy and their families in Fota Island Wildlife Resort in Co. Cork – and you're invited!!
Families often tell us that their child who lives with epilepsy has never met or interacted with another person with epilepsy. Epilepsy Ireland's Family Fun Day is an annual event offered by our organisation aimed at bringing families from across Ireland together in a fun environment – where those affected by the condition can meet with others in a similar situation, in a fun environment.
Another benefit of the day will be to introduce children with epilepsy to others living with the condition.
This is one of our most popular events of the year – so if you're interested in joining us on the day, please book today to avoid disappointment.
We can't wait to have a great day with families on June 10th!
WHEN: June 10th, entry from 10am.
WHERE: Fota Island Wildlife Resort, Carrigtwohill, Co. Cork, T45 CD93
TICKETS & BOOKING: Tickets are €5 per person and there are a maximum of 4 tickets per family. See note at beginning of this page regarding late registrations. 
ADDITIONAL INORMATION
We expect this event to be extremely popular and become fully booked. Please cancel your tickets if you are no longer able to attend. Tickets are on a first-come, first-served basis. We are sorry that we cannot accommodate everyone. A waitlist will be set up. In the case of cancellations, we will contact people on the waitlist.
Fota Island Wildlife Park is an outdoor facility - please be prepared for the Irish weather! Please visit the Fota Island website for details about transport and parking.
If you or any family member experience any COVID19 like symptoms in the week prior to the event, we ask that you don't attend and let us know as early as its practically possible so we can distribute your tickets to other families on a waiting list. Thank you for your co-operation on this matter.
Parents/guardians/carers are responsible supervising their children on the day and for managing seizures should they occur including the administration of emergency medication.
Epilepsy Ireland are not responsible or liable for any injuries, accidents or otherwise that occur on the day at Fota.
Book Now on Epilepsy.ie