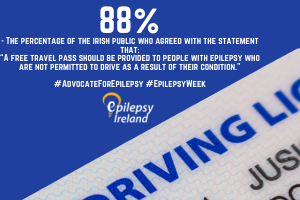 Irish public express overwhelming support for two epilepsy advocacy issues
Newly released figures by Epilepsy Ireland have outlined overwhelming public support for action on two key advocacy issues facing people with epilepsy in Ireland.
In market research undertaken by Amarach Research on behalf of Epilepsy Ireland, 93% of the 1,000 respondents agreed with the statement that "If a student with epilepsy has a seizure shortly before/ during a State examination which prevents them from taking that exam, they should be able to resit the exam at a later date".
Meanwhile, 88% of respondents agreed that "A free travel pass should be provided to people with epilepsy who are not permitted to drive as a result of their condition."
The figures were released as part of National Epilepsy Week – a week in which Epilepsy Ireland are highlighting some of the key issues which are impacting on the lives of people with epilepsy and their families.
Epilepsy Ireland CEO Peter Murphy explained the impact that both these issues can have on a person with epilepsy and their families, commenting, "Accessing appropriate Reasonable Accommodations during state examinations is a long-standing issue which is of particular concern for Leaving Cert students and their families. Currently, if a person with epilepsy experiences a seizure before or during their exam and is unable to complete it, there is currently no provision to allow that person to resit the exam within the same cycle. For most students, a seizure on the day of an exam will either cause the student to miss the exam or at best, prevent them from performing anywhere near their potential on the day. The threat of a seizure is a constant worry that can in an instant destroy years of hard work and put a student's life on hold for a year until they complete the year again.
"We believe that the recently introduced provision to allow students who have experienced a bereavement to re-sit their exam should be extended to students who experience a medical incident such as an epileptic seizure. While students have the option of calculated grades are in operation this year, this issue will resurface when we get back to normal if it is not addressed."
For the vast majority of people with epilepsy, seizures result in driving restrictions. Restrictions can generally only be lifted once the person is one year free of seizures.
Speaking on the difficulties people with epilepsy in this situation face, Mr. Murphy explained, "The loss of a driving licence can be devastating, whether caused by a new diagnosis of epilepsy or as a result of breakthrough seizures. It can lead to increased social isolation, difficulties in continuing work or education, or additional costs related to travel. We have long argued that if the state takes a person's license away with one hand on medical grounds, then it should provide supports to ease the burden and impact on that person. It would be far more beneficial to both the individual and to the economy to provide free travel for the period they are 'off the road' and enable them to remain economically active.
"The current system also dictates that a person must avail of another qualifying payment in order to access Free Travel – essentially making it unobtainable for the many people with epilepsy who wish to continue their employment. The needs of people with epilepsy would be greatly served if there was a direct access route to the Free Travel scheme, under which their specific needs could be assessed– a measure which was recommended by the Oireachtas Committee on Transport in 2018."
Mr. Murphy believes that with political will, both these issues can be addressed and have a positive impact on the lives of those with epilepsy. "We hope that the resounding public support for these two issues will act as a catalyst for government action. It is clear that the wider Irish public approve of these measures to help improve the lives of people with epilepsy. These are matters that can be addressed and we are seeking that the Government do just that. We are asking all TDs & Senators to Advocate for Epilepsy during National Epilepsy Week & beyond to have these and the many other issues facing people with epilepsy addressed."
ENDS.
Read more on Reasonable Accommodations