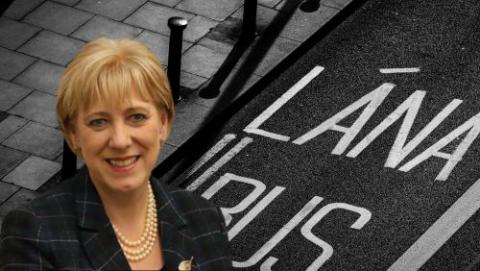 Epilepsy Ireland has written to the Minister for Social Protection regarding her Department's ongoing assessment of our proposals to improve access the Free Travel scheme for people with epilepsy.
A report on the proposals have been expected since the end of 2022. However, at the beginning of the year, parliamentary question responses from the Minister in the Dáil stated that this report would then be available by the end of Quarter 1 2023. To date, the report has not yet been finalised and we have received no indication on what it will contain.
However, in the most recent response in the Dáil, there was no reference to a deadline for receipt of this report on our proposals. You can see one of the most recent questions below:
Deputy Mairéad Farrell asked the Minister for Social Protection if she will provide an update on the work her Department has done on extending free travel eligibility to persons who suffer with epilepsy; and if she will make a statement on the matter. [16966/23]

 

The Free Travel scheme provides free travel on the main public and private transport services for those eligible under the scheme.  There are over one million customers with direct eligibility.  The estimated expenditure on free travel in 2023 is €95 million.

It is important to note that, in general, access to a free travel pass for those aged under 66 is a secondary benefit linked to a person being in receipt of certain primary Social Protection payments such as Disability Allowance, Invalidity Pension, Carer's Allowance, Blind Pension and Partial Capacity Benefit.  As many illnesses or physical conditions have an impact ranging from mild to severe, entitlement to these social welfare schemes is not provided on the basis of a diagnosis but on the basis of the impact of that diagnosis on the individual concerned and in the case of Disability and Carer's allowance to an assessment of their means.  In this way, resources can be targeted to people in most need.

I am aware of an ongoing campaign by Epilepsy Ireland.  I fully recognise the issues and difficulties that can arise due to a person being diagnosed with epilepsy and who is unable to drive as a result of their condition. 

I have met with representatives of Epilepsy Ireland to discuss its proposal in detail and following the meeting I asked my Department officials to examine the issues raised in relation to access to the Free Travel scheme. 

My officials advise me that they are currently finalising the report and I expect to receive it shortly.  Thereafter, I will carefully consider its contents and any recommendations that it may contain.  

I hope this clarifies the matter for the Deputy.
This report needs to be completed urgently – and given the amount of time that has gone into its preparation, we sincerely hope that when produced, it will contain a step forward on this longstanding issue which faces people with epilepsy.
We believe our proposals provide a logical solution in addressing this issue – and you can read our proposals in full by visiting the 'Advocacy' section of our website. 
In our correspondence to the Minister, we have highlighted how this issue continues to affect people with epilepsy across Ireland and how we urgently need this report to be finalised and published. Our correspondence can be read in full at the end of this article or can be downloaded from our website.
We have also written again to the Oireachtas Committee on Social Protection, seeking that they continue to support our campaign around this most important matter.
If you would like to support this campaign, you can do so by visiting the 'Advocacy' section of our website. Within this section you can find a template letter which can be amended and sent to your local TD or Senator to help support our calls on this issue. You can also find further information on this campaign to date within the Advocacy section.
Should we receive any further updates regarding this campaign, we will share these on our website and social media channels.  We will continue to use all avenues available to us to seek progress on this issue.