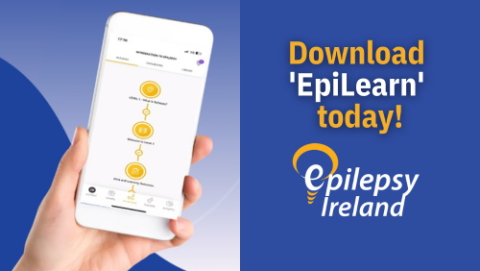 This week is National Epilepsy Week, and the theme of the week is #EpilepsyMatters.
We know that it matters that the public know more about epilepsy and can access information about the condition in different ways that suits their lifestyles and needs.
We have a wealth of information and resources on our website; and people with epilepsy, their families and local communities can access the vital supports provided by our team of Community Resource Officers.
We are now delighted to complement this service by adding a new digital, interactive layer to our information resources for those seeking to learn more about epilepsy – by launching 'Epilearn'.
The new app provides bitesize information on epilepsy, structured into pathways of learning that features videos, quizzes, and practical exercises. The app is being launched with one pathway, designed to give users an introduction to epilepsy and features four distinct levels focussed on:
Level 1 What is Epilepsy?
Level 2 Non-Convulsive Seizures
Level 3 Convulsive Seizures
Level 4 Supporting information on Epilepsy.
The app is Epilepsy Ireland's first foray into the world of e-learning, and we plan to add further pathways and resources to the app for a range of different audiences and stakeholders.
The new app has been designed and developed in collaboration with healthcare eLearning specialists, Aurion Learning, developed using their latest learning platform offering, ByteKast.
EpiLearn is now live and is FREE to download and use via both the Google Play Store(Android) and iTunes Store (Apple). A desktop version is also available, and can be accessed by visiting the 'EpiLearn' Bytekast website. Download links to the new resource are also available within the 'Our Services' section of our website.
Commenting on the launch of EpiLearn, Epilepsy Ireland's Training and Quality Manager, Edel Curran said:
The availability of this engaging new platform will be an accessible resource that will take the user on a journey to increase their understanding of epilepsy at a time that is convenient for them. The aim of this is to provide information in an interactive way that will engage the user through different activities, to help people to gain valuable insight into the condition of epilepsy.
Gavin Woods, Managing Director at Aurion Learning added:
As innovators in rethinking traditional training and education, it is a privilege to support Epilepsy Ireland with this latest resource.  EpiLearn is a cutting-edge solution that will help Epilepsy Ireland to add an interactive, digital resource to aid those seeking to increase their understanding of epilepsy and to learn more about a condition which affects 45,000 people in Ireland.
We hope that the app will be a great addition to information services on epilepsy we already provide – and will help us progress further on our journey towards a society where no person's life is limited by epilepsy.
You can download the app directly on your mobile device via the buttons below.
Download for Apple          Download for Android          Download on your Desktop
While the app has now been launched, we are still in the infancy of its existence. Therefore, we would welcome any feedback or suggestions you may have. Please email our Training & Quality Manager, Edel Curran, on training@epilepsy.ie with any feedback you may have.