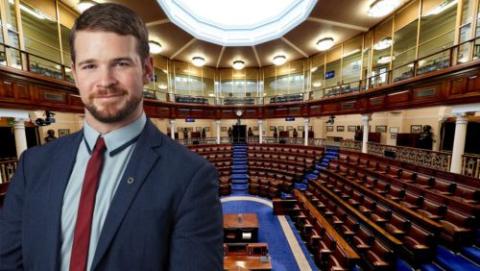 With this being National Epilepsy week, the theme of which is #EpilepsyMatters, we were pleased to see one of our most longstanding advocacy campaigns that matters to many people with epilepsy being raised in the Dáil on Tuesday night.
Deputy Donnchadh Ó Laoghaire raised our proposals to improve access to the Free Travel Scheme with the Minister for Social Protection, Deputy Heather Humphreys, under Priority Questions.
Our proposals have been with the Department for over a year now, and we have been expecting a final report regarding these for some time. We recently wrote to the Minister Humphreys regarding the delay in this report being finalised and outlining our expectation that the report will contain a positive step forward on this issue. You can read and download  this correspondence on our website.
In the Dáil on Tuesday, Deputy Ó Laoighaire raised many of the key points of our campaign and the impact driving restrictions can have for people with epilepsy. You can watch the full debate in the video below:
Deputy Ó Laoighaire has also issued a statement on the back of this debate, which can be read by visiting the Sinn Féin website.
While the Minister did not give defined timelines on when this long-awaited report will be presented to her, and would not be drawn on what it would contain – it was interesting to note that the Minister referenced a need to consult with Minister for Transport, Deputy Eamon Ryan, on foot of her receiving this report.
On this, we believe that the proposals we have put forward are the most logical approach to address this issue, especially given that other categories of people with disabilities can already access the Free Travel scheme without needing a qualifying payment from the Department of Social Protection. Furthermore, the Free Travel scheme already exists, has a clear purpose, and can be amended to expand eligibility to people with epilepsy who have been restricted from driving. With the necessary eligibility amendments, we believe it would make more sense to work within the existing scheme rather than create a new one to address this issue.
However, as we noted in our meeting with the Minister last year, an effective solution that addresses the challenges facing people with epilepsy is paramount, regardless of what mechanism is put in place to achieve it.
We are urging the Department to finalise its report for the Minister so that we can move towards a positive outcome on this long-standing issue affecting many people living with epilepsy.
If you would like to support our campaign, we would encourage you to raise this matter directly with your local TD or Senator. You can find a template letter, and further information on this campaign in general by visiting the 'Advocacy' section of our website.
In the meantime, we will continue to use all avenues available to us in order to further pursue this issue.
#EpilepsyMatters