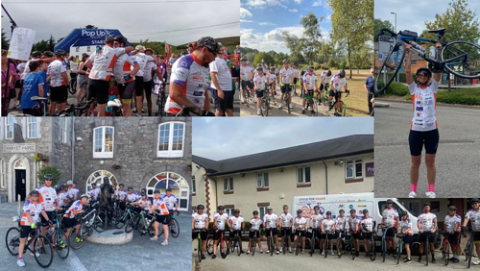 We were delighted to hear that the outstanding team at the Cycle for Shane reached their fundraising goal at the turn of the year – an incredible way to begin 2023 and a huge acknowledgement of their extraordinary efforts in support of Epilepsy Ireland and SUDEP Action last year.
The Cycle was set up in memory of the late Shane Corrigan, who sadly passed away from SUDEP in 2018. Shane's family and friends came together to arrange the Cycle for Shane, which saw Cyclists travel all the way from London to Achill Island across the course of a week.
The cycle set out to raise £150k and at the turn of the year, they reached this phenomenal fundraising goal. In addition to this huge amount, the awareness of both SUDEP and epilepsy which was created as part of the Cycle was priceless.
The efforts of the Cycle saw them being honoured at the Mayo People of the Year awards towards the end of 2022, and the Cycle for Shane recently revealed on social media that they received a special message from Uachtarán Na hÉireann, Michael D. Higgins, congratulating them on their incredible efforts across the week of the Cycle. You can see the special message from the President by visiting the Cycle for Shane Instagram page.
With the funds raised in Shane's name, we plan to extend SUDEP Action's evidence-based SUDEP and Seizure Safety Checklist to Ireland. This resource has widely been integrated into the care of people with epilepsy in the UK to help clinicians discuss SUDEP risk and to make people with epilepsy and their families more aware about SUDEP. 
Introducing this tool to Ireland will undoubtedly help prevent future SUDEP related deaths in Ireland and create a lasting legacy in Shane's memory. In time, we also hope to launch the EPSMON app in Ireland, also in association with SUDEP Action.
We would like to once again thank the Cycle for Shane for their support of Epilepsy Ireland in memory of a young man who is clearly missed by so many.
Shane Corrigan - Ar dheis Dé go raibh a anam.
To learn more about SUDEP, visit the 'SUDEP' section of our website. You can also read a piece prepared by Shane's sister Megan, about Shane and the impact of his loss on her family which was shared as part of SUDEP Action Day 2022. You can also find this powerful piece by visiting the 'SUDEP' section of our website.