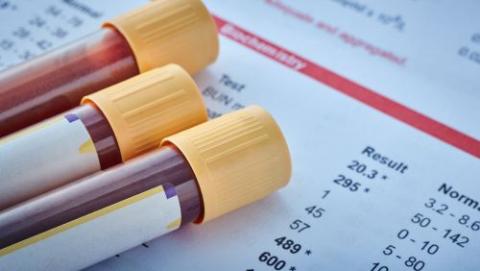 A new study from Sweden has suggested that a blood test could help identify epilepsy. The study was recently published in the medical journal, Heliyon.
The study investigated a small group of people – 56 in total. However, it was found that there was an increased level of an immune system protein called IL-6 in the blood of people with epilepsy.
There were four distinct groups within these 56 people – those with temporal lobe epilepsy (28); those with frontal lobe epilepsy (13); those with psychogenic non-epileptic seizures (10) (also known as non-epileptic attack disorder); and those with combined temporal lobe epilepsy and psychogenic non-epileptic seizures (5).
The researchers investigating the 56 patients knew whether they were taking blood samples before or after seizures. When they compared the bloods of the study participants against "healthy" counterparts, the increased level of the protein IL-6 was discovered. In fact, it was found that the levels of protein further increased in people with Temporal Lobe epilepsy after they had a seizure.
It was also found that IL-6 levels were not increased in those experiencing psychogenic non-epileptic seizures.
While the findings suggesting a possible new biomarker for epilepsy are certainly interesting, the researchers have acknowledged that further research on this will be required – with plans already afoot to further investigate this in adults and children with epilepsy.
Christine Ekdahl Clementson, associate professor at Lund University, Consultant in Clinical Neurophysiology at Skåne University Hospital and one of the authors of this study commented:
"The next stage is to repeat our studies on a broader and less homogenous patient group, where we investigate the 'fingerprint' in adults with epilepsy. We also want to see whether the biomarkers respond in the same way in children, where the causes of epilepsy are more often genetic. We are doing this through an ongoing study in Lund, in collaboration with child and adolescent psychiatry as well as paediatric neurology."
We know from the services we provide how the diagnostic process for epilepsy can be a long and draw-out process involving EEGs, MRIs and many different tests so the prospect of the development of a blood test to potentially diagnose epilepsy is one that will certainly be interest to the entire epilepsy community. We will continue to monitor emerging research on this subject and post further updates on our website.
If you would like to read about this research in full, you can do so by visiting the 'Heliyon' website.
In the meantime, should you or a loved one need any support or information on your respective journeys with epilepsy, do not hesitate to contact your local Community Resource Officer. You can find their details by visiting the 'Our Local Service' section of our website.