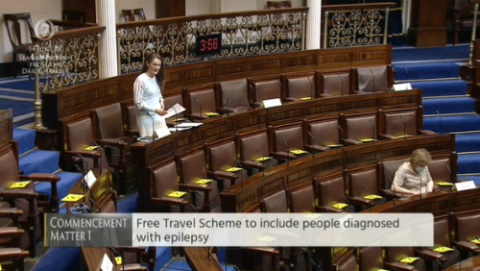 Earlier today in Seanad Éireann, Senator Erin McGreehan raised the issue around access to free travel for people with epilepsy. 
This is a longstanding issue facing many people with epilepsy across Ireland and something we focussed on during our recent National Epilepsy Week campaign.
You can watch Senator McGreehan's contribution below:
Minister Joe O'Brien was responding on the behalf of Minister for Social Protection, Minister Heather Humphreys and outlined the current Department response and noted that he has personal experience of this issue through his father. Minister O'Brien agreed to discuss this matter further with Minister Humphreys. 
We will continue to put forward our proposals to have this issue addressed and you can help echo our calls by contacting your local TD or Senator and ask them to raise this. A template letter for you to use is available for download at the end of this article. You can read more about this issue by visiting the 'Advocacy' section of our website. 
Thank you to Senator McGreehan for taking the time to raise this most important matter.