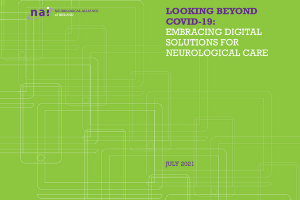 To mark World Brain Day today, our colleagues in the Neurological Alliance of Ireland (NAI) have launched a report on online service provision since COVID-19.
The report is entitled "Looking Beyond COVID-19: Embracing Digital Solutions for Neurological Care" and documents how neurological services - in terms of both healthcare professionals and patient organisations has adapted since the onset of the pandemic. 
The report also publishes details from users of neurological services about their experience of online service delivery during COVID-19 with some of the key findings being:
75% of service users surveyed would use online service delivery in the future
74% of service users would like a combination of face to face and online service going forward
26% of service users reported poor broadband as a barrier to accessing online services
We were also delighted to be featured in the NAI report which highlights how our services have been adapted over the last year. 
It is clear that despite the challenges of COVID-19, there has been a lot of food for thought in how healthcare is delivered in a post-pandemic world and as a member of the NAI, we support the recommendations outlined in the report.
To read the report in full, see the end of this article or by clicking HERE.