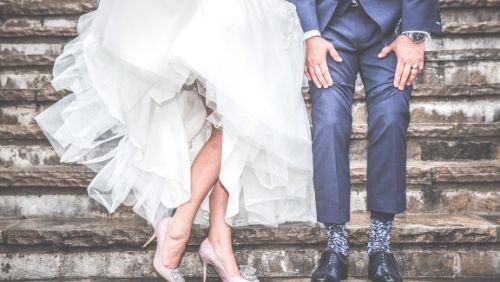 If you're looking at this page then it's likely you have quite a big day coming up - our warmest congratulations and we wish you the very best for your future together.
Thank you for considering donating to Epilepsy Ireland in lieu of wedding favours. It is a fantastic and unique way of thanking your guests and the impact of your donation on our work is tenfold. Not only are you donating but you are increasing awareness of epilepsy amongst your guests.
While every donation is appreciated and gratefully accepted, we do make a suggestion of a minimum donation of €250 - this is because this will allow for your donation to be increased by 45% for FREE! This is the minimum donation that is eligible for tax relief and allow's it to be increased by 45% at no extra cost to you! All you'd have to do is download the CHY4 form, sign it, return it to us and we'll look after the rest.
In return for your donation, we will send you 1/2 tent cards per table for your big day. These cards can be ordered on our online shop but it is important to please let us know your contact details, the date of your big day & the number of cards required.
If you want a sample of the tent card or indeed, if you require any further information regarding this, please do not hesitate to get in touch with our fundraising team on 014557500 or by emailing fundraising@epilepsy.ie.
We wish you the very best for your big day and every happiness in the future! Thank you again for considering to donate to Epilepsy Ireland in lieu of wedding favours.