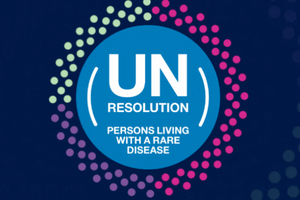 Epilepsy Ireland are joining with patient organisations across Ireland to support the #resolutionforrare campaign.
The campaign is being co-ordinated by our colleagues in Rare Diseases Ireland and aims to have Irish delegates of the United Nations to support a resolution addressing the challenges of persons living with rare diseases & their families.
While epilepsy is not a rare condition, there are rare forms of epilepsy. There are also rare conditions in which epilepsy is a feature. Such examples would be Dravet Syndrome, Lennox Gastaut Syndrome or Tuberous Sclerosis Complex Disorder.
It is hoped that the passing of a resolution on rare disease will lead to improved international co-ordination on addressing many of the challenges that face those living with rare diseases and their families.
On the behalf of a number of organisations involved in this campaign, Rare Diseases Ireland recently sent correspondence to the Taoiseach, Michéal Martin seeking that Irish delegates on the United Nations support the draft resolution. This correspondence was also sent to opposition leaders in the Oireachtas.
The draft resolution was introduced and presented to United Nations delegates this week and is it expected that a decision will be made on same by year end.
If you would like to support the adoption of a UN resolution on Rare Diseases, see how you can help by visiting the dedicated #resolutionforrare campaign page on Rare Disease Ireland.