It's fantastic to see the Tour De Gaggs back for 2021 and we're hoping that you might be able to get involved!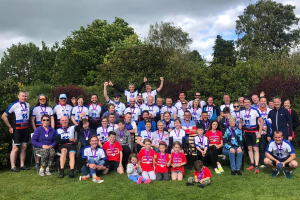 Up until last year, the Tour De Gaggs was a fixture of our volunteer led fundraising events. The event was set up in memory of the late Alan Gallagher who passed away from SUDEP in 2009. 
In Alan's memory, a fundraising cycle was established in 2010 by friends and family to support the work of Epilepsy Ireland which would see avid cyclists come together to complete the challenge which started in Cork, went via Galway and ended in Roscommon. 
Since it's inception, the event has raised in excess of €70k  in support of Epilepsy Ireland - and directly led to the establishment of the Epilepsy Deaths Register for Ireland. 
The event also remembers the late Gerry Toibin, who sadly passed away suddenly during the cycle in 2018 and the late Loraine Cliffe who was avid supporter of the Tour, who sadly passed away earlier this year.
Last year, the event could not take place due to COVID-19 but this year, the Tour De Gaggs is back in a virtual environment. 
This year, organisers are calling on cyclists across Ireland to complete 100km across this week (June 21st - 27th) and to seek sponsorhsip for your efforts by asking friends and family to donate to the dedicated fundraising page HERE. 
Be sure to take a pic while completing the challenge and share with us on social media! Happy cycling everyone and we have good weather for the week ahead! 
If you have any further questions on this fundraising challenge, please contact Ashley on abutler@epilepsy.ie.