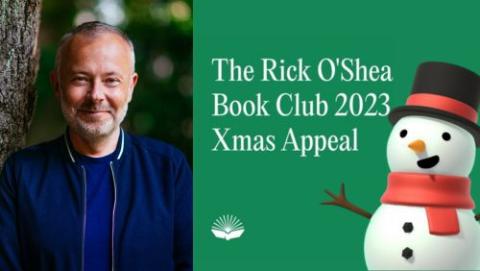 We are delighted to have our Patron, Rick O'Shea, once again showing his support for the work of Epilepsy Ireland by selecting us as one of the beneficiaries of the annual Rick O'Shea Book Club Xmas Appeal!
Rick has been our patron for over a decade. Having been diagnosed with epilepsy at the age of 16, Rick has constantly shone a light on the condition through his roles on radio and has been a source of inspiration to people of all ages living with the condition in Ireland today. He has undertaken countless media interviews on the behalf of Epilepsy Ireland in order to break down stigmas associated with the condition and has represented Epilepsy Ireland at national and international events. The selection of EI for this year's appeal is Rick's latest show of support for our work.
While many of our members, supporters and volunteers will be familiar with Rick's broadcasting career, you may not be aware that he run's Ireland's largest book club! The club has over 40,000 members and every year, during the festive season, they come together to raise funds for worthy causes across the country.
Over the past 5 years of the club's fundraising efforts, just under €200k has been raised and we are privileged to be selected as one of the chosen charities this year – alongside our colleagues in the DPSCA, Fighting Words NI and My Lovely Horse Rescue.
Proceeds raised will be split evenly between all organisations and all those who donate will be helping to continue our journey towards a society where no person's life is limited by epilepsy. Every donation will help our vital support and information services; training and education programmes; advocacy and awareness campaigns; and our investment in Irish Epilepsy Research.
We continue to be in Rick's debt for his continuous support of EI during his long tenure as our patron, and would like to thank all members of the Rick O'Shea Book Club in advance for their support.
If you'd like to join the Rick O'Shea Book Club, you can do so by visiting their Facebook page.
If you would like to support the club's annual, you can do so visiting their dedicated GofundMe page below.