Procurement Leaders have today announced a year-long partnership with Epilepsy Ireland in support of our work on behalf of people with epilepsy across Ireland.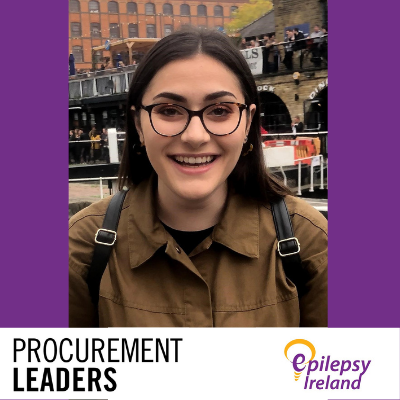 The partnership has been announced in memory of the late Louise Young - a young Wexford woman who sadly passed away earlier this year at the age of 24. 
Louise was a huge supporter of our work, having actively fundraised for our services and was an active media volunteer. Louise shared her own personal experience with epilepsy during Rose Week 2020 in an effort to help others understand epilepsy and also to let other people with epilepsy know that they were not alone. 
In her short life, Louise made a massive contribution to our work; a contribution which is being continued by her family, friends and now her employer. 
Louise worked for Procurement Leaders in London before returning home at the beginning of the pandemic to work remotely. Procurement Leaders provides strategy development and peer-to-peer benchmarking for Chief Procurement Officers and their leadership teams and are an organisation with a  gobal reach.
The Procurement Leaders team will be joining with us in our awareness and fundraising efforts and we are excited to work with them over the next year. It is invaluable support to have, alongside that of the already invaluable support that we have with our existing charity partners, Expert Electrical. 
Be sure to keep an eye out on our and Procurement Leaders social media channels as we will be collaborating on a number of fronts over the coming year. 
Finally, we would like to again thank the family and friends of Louise Young for all they have done to support our work in Louise's memory. Today's announcement from Procurement Leaders is a further stunning testament to the impact Louise has on the lives of so many. 
Ar dheis Dé go raibh a hanam