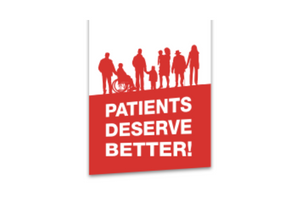 The New Year will see the continuation of the Patients Deserve Better campaign.
The campaign was launched in 2021 and is being coordinated by our colleagues in the Neurological Alliance of Ireland (NAI) and Epilepsy Ireland are proud to support the campaign.
The campaign has been highlighting the overall shortage of neurology nurses – covering all conditions including epilepsy – across Ireland.
With over 800,000 people living in Ireland with a neurological condition – 40,000 of whom have epilepsy – there is currently a shortfall of 100 neurology nurses in Ireland.
If this shortfall is addressed, it would help improve access to expert care for people with epilepsy and all neurological conditions.  You can learn more about the Patients Deserve Better campaign and the importance of Epilepsy Nurse Specialists by watching the video below:
The Patients Deserve Better Campaign to date has focused on a number of regional launches – focusing on the specific shortages within hospital areas/regions. The campaign has so far been launched in Cork, Galway & Limerick and the next leg of the campaign will focus on Waterford.
If you're from the region and would like to attend the online launch, you can register at the NAI's eventbrite link below:
https://www.eventbrite.ie/e/patients-deserve-better-waterford-launch-tickets-228271314647
You can also add your voice to the growing calls to have this shortfall addressed by contacting your local TD or Senator. See the Patients Deserve Better campaign website at the link below for further information on how to do this.
https://www.patientsdeservebetter.ie/take-action-galway/
#PatientsDeserveBetter